Flash Gordon 2 Just Took A Huge Step Forward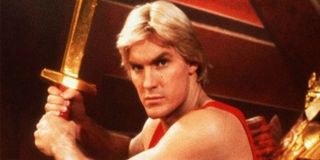 It's been just over 25 years since Flash Gordon was released to mostly impressive reviews, as well as a healthy box office return. But, despite coming just three years after Star Wars: A New Hope and seven months after its sequel, The Empire Strikes Back, Flash Gordon never spawned any follow ups of its own. But that finally looks set to change in the very near future, because screenwriter Mark Protosevich has confirmed that he is currently hard at work on a Flash Gordon script for 20th Century Fox.
Mark Protosevich took to his Facebook page (via HitFix) to make this revelation, confirming that the film would be unique from any other version of Flash Gordon that you've seen. However, he obviously stopped short of giving away any further details regarding the project, as that would probably have resulted in him being instantly dismissed. Protosevich wrote,
News regarding Flash Gordon 2 has been slowly progressing over the last few years. The proposed sequel took a huge leap forward when Matthew Vaughn, of Layer Cake, Stardust, Kick-Ass, X-Men: First Class, and Kingsman: The Secret Service, signed up to direct. Vaughn has enjoyed plenty of recent success with his slick, pacey, and always entertaining films, Kingsman grossing $414.4 million back in 2014.
Matthew Vaughn's involvement meant that Flash Gordon 2 immediately became a distinct possibility. But the plan wasn't always to have Mark Protosevich, who has written Poseidon, I Am Legend, and Oldboy, scribe the film. In fact, J.D. Payne and Patrick McKay, who wrote Star Trek Beyond prior to Simon Pegg picking up the pen, were originally tasked with bringing Flash Gordon back to life. Clearly, Matthew Vaughn and his co-writer/creative partner Jane Goldman decided to take the project in a different direction, though, which is what led them to Protosevich.
Matthew Vaughn, Jane Goldman and Mark Protosevich were almost in cahoots on Thor back in 2011. Protosevich had a whack at the first screenplay for the Marvel adaptation, while Vaughn and Goldman were considering working on the blockbuster too. That ultimately didn't happen, but it at least fate seems to have brought the trio together for Flash Gordon. However, we're still some way away from this incarnation of the project becoming a cinematic reality, as there are still puzzle pieces that need to be put in place.
Flash Gordon was originally a space opera that started in 1934, and was adapted into a 1980 film, as well as numerous animated and television series. It's camp, silly, but still utterly enthralling, with the 1980 film revolving around Mongo's Emperor Ming The Merciless (Max Von Sydow) toying with and then trying to destroy planet Earth. New York Jets football star "Flash" Gordon pals up with journalist Dale Arden and Dr. Hans Zarkov to fly into space to stop Ming.
Flash Gordon was also the main inspiration for George Lucas while he wrote the original Star Wars. In fact, Lucas actually wanted 20th Century Fox to buy the rights to Flash Gordon, but when they couldn't he created his very own sci-fi space opera. Clearly the success of Star Wars: The Force Awakens will have 20th Century Fox now dreaming that they will soon have their very own, lucrative, space opera on their hands too.
Your Daily Blend of Entertainment News