Forrest Gump Getting An IMAX Re-Release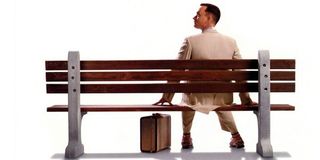 It may not seem like that long ago that the whole world was grinning at Tom Hanks' Forrest Gump and gamely quoting, "Stupid is what stupid does," or "Life is like a box of chocolates, you never know what you're going to get." But time, she is cruel. It's been 20 years since the epic drama based on the Winston Groom novel hit theaters. So Paramount Pictures thinks its about time they bring Forrest and the gang back for a big, flashy victory lap.
THR reports Paramount Pictures is re-releasing Forrest Gump on September 5th, 2014. This will be a special engagement, only on IMAX screens, intended to capitalize celebrate the film's 20th anniversary.
Back in 1994, Forrest Gump took the world by storm. The feel-good movie about a less than intelligent but good-hearted American who stumbled into pivotal moments in our shared history was adored by audiences and critics alike. It earned loads of critical praise as well as six Academy Awards, including Best Director, Best Actor (for Tom Hanks) and Best Picture. Globally, Forrest Gump brought in an astounding $677 million over 31 weekends. It was the highest domestic grossing movie of the year, beating out The Lion King and True Lies.
But more impressive yet, Forrest Gump is #31 of the highest domestic grossing movies of all time, coming in just $5 million behind the monstrously successful Alice in Wonderland, which notably had an IMAX release component. Actually, IMAX has played a role in a string of this top 30, including Spider-Man 2 & 3, Transformers: Dark of the Moon & Revenge of the Fallen, Despicable Me 2, Harry Potter and the Deathly Hallows Part 2, The Hunger Games 1 &2, Iron Man 3, Toy Story 3, The Dark Knight, The Dark Knight Rises, The Avengers and the #1 Avatar.
Basically, Forrest Gump could rewrite its place in Hollywood history, bumping it successfully into this coveted top 30. Have an ice cream cone and celebrate!
The Lion King had a well-marketed 3D re-release in 2011 that brought its domestic total up another $94 million. Indian Jones: Raiders of the Lost Ark's 2012 IMAX release brought in $3 million. However, not all titles thrive in their second outing. Memorably, Star Wars: Episode 1 -- The Phantom Menace revisited theaters in 2012, but even the addition of 3D didn't help qualify this re-release a hit. Of course, despite the fervor over most things Star Wars, Forrest Gump is generally more beloved than Phantom Menace. So the IMAX re-release should do quite well. And after all, who doesn't want to see Forrest Gump on a massive screen?
Your Daily Blend of Entertainment News
Staff writer at CinemaBlend.