Will Forte Crushes Our Dreams Of MacGruber 2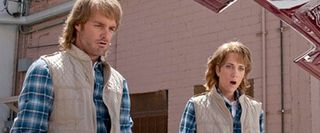 Based on a pretty one-note Saturday Night Live sketch, MacGruber was a movie that shouldn't have worked. And yet, this bizarre comedy about a mediocre MacGyver proved thoroughly hilarious. From the names of MacGruber's elite team (Tug Phelps, Vicki St. Elmo, Vernon Freedom!) to his over-the-top enemy Dieter Von Cunth—played with masterful camp by Val Kilmer—to the grunt-heavy, candle-lit love scene, MacGruber was a pitch perfect send-up of '80s action flicks. Sadly, the majority of critics weren't in on the joke; audiences feared there'd be too few laughs to see this flick in theaters, and so MacGruber was deemed a major flop.
Still, last week MacGruber director Jorma Taccone inspired hope in the hearts of the underrated comedy's fans that a sequel was in the works. But now its star Will Forte has stepped forward to admit that a MacGruber 2 is just too much to hope for. At a press conference for the new Adam Sandler atrocity That's My Boy, covered by AICN, Forte confessed:
So it's not passion for the project that's the problem, it's financing. And frankly, Forte's right. It's highly unlikely that Relativity Media, who produced the original in league with Universal, would pony up the backing for a sequel as MacGruber's production budget was a measly $10 million, and it didn't even make that back, earning little more than $9 million worldwide.
So, to recap, Smurfs 2 and Smurfs 3 are happening, but MacGruber 2 is not. In related news, this is a fucking asshole of a day.
Staff writer at CinemaBlend.
Your Daily Blend of Entertainment News
Thank you for signing up to CinemaBlend. You will receive a verification email shortly.
There was a problem. Please refresh the page and try again.