French Company Bringing 4D Theater Technology Into Your Home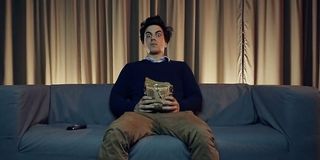 It's crazy to sit back and reflect on how far your home entertainment system has come and how far it could go. With advances in 3D technology, surround sound and smart TV, you can bring the impact of a movie theater into your own home. But one French company wants to up the ante just a bit by tricking out your couch.
Immersit's goal is simple. They want to bring 4D technology into your own home. The folks at Engadget had the opportunity to check out what they're working on, and it involves a custom-built sofa that will react depending on the content shown in the movie or video game you're watching at home. It's basically a contained theme park ride of sorts. There are four pneumatic feet powered by air pumps that support your sofa or love seat, and each can move independently up to four inches. This movement varies from pitching back and forth, rolling, vibrating and jostling up and down. The final system will be able to support approximately 1,100 lbs.
Then there's the control module, which receives commands from a laptop or tablet through wi-fi. This also means that, for the full experience, special DVDs and Blu-rays need to be purchased. Motion-control artists have to pre-program the movie with these commands in order for the films to sync up with the tech. For example, Steve Dent from Engadget watched pre-encoded versions of Jurassic Park and Toy Story 2. However, Immersit can still create motion with non-encoded films by syncing the movement of the feet to the soundtrack.
Watch a promo for the technology below.
As Immersit states in their product's description, "It is now possible to become Maverick's copilot in Top Gun or a Jedi in Star Wars." This certainly seems like the next logical step in the home entertainment evolution. Movie theaters have already begun incorporating 4D technology into their offerings, with some even going as far as to pelt audiences with rain, snow, wind and smells to fully immerse them into the world of the films. But the big question Engadget postulates is, will anyone dish out the asking price to have something like this in their own home?
Immersit CEO Valentin Fage says the product will cost around the same as a laptop — between $800 and $1,200 — though they are still improving the functionality and deciding on a finite price. Immersit will go on sale this September through Kickstarter.
Your Daily Blend of Entertainment News