Gael Garcia Bernal Is The Sound Of Cell Phones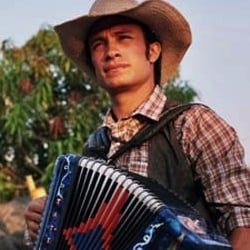 Here in the States, we think of Gael Garcia Bernal as a kind of art house star, a figure in movies like Y Tu Mama Tambien and Blindness. But in his native Mexico, not only is he a major actor, but also, somehow, a rock star-- kinda. At the roundtable interviews for his new film Rudo y Cursi, both Bernal and director Carlos Cuaron explained how the song that Bernal's character records in the film has become a hit ringtone in Mexico.
"Gael's "Quiero Que Me Quieras" [Spanish version of "I Want You To Want Me"] became also a big hit, especially ringtone downloads," Cuaron explained, referencing the music video recorded by Bernal's character in hopes of becoming a huge star. "People are singing it on the street. The social impact that it has created is weird. "
Bernal added, "I was very surprised that the song became such a big hit, and it transcended into other things. The song is better known now that the film."
Rudo y Cursi opens this Friday, and we'll have more interviews with Bernal, co-star Diego Luna and Carlos Cuaron later this week. We'll also let you know if an American ringtone download becomes available.
Staff Writer at CinemaBlend
Your Daily Blend of Entertainment News
Thank you for signing up to CinemaBlend. You will receive a verification email shortly.
There was a problem. Please refresh the page and try again.