Gaiman's Neverwhere Movie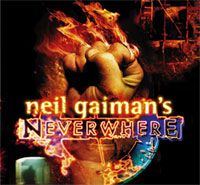 Neil Gaiman is an author on the verge of getting disgustingly rich. Just about everything he's ever written is being considered for adaptation, and even though the film translation of his book Stardust tanked at the box office this past weekend, the critical praise it received should be enough to keep the Gaiman grabbing going.
MTV reports that one of his next works to be turned into a movie may end up being "Neverwhere". "Neverwhere" was originally a television series developed by Gaiman, an urban fantasy set in a magical realm which coexists with the London we know called "London Below". It follows a man named Richard Mayhew who helps an injured girl named Door, and suddenly ceases to exist for the regular people of London, losing everything he has as he travels through the invisible world of London Below. The BBC miniseries was eventually adapted into a book as well, but the television series was first.
Gaiman says David Slade, director of Hard Candy and 30 Days of Night is set to direct. Apparently this is a Weinstein Company project, with some level of involvement from elements of the Henson company. Gaiman wrote a script for it in 2000, and he's currently working on tweaking it for use in making the movie.
Your Daily Blend of Entertainment News