George Clooney's New Movie Money Monster Has A Stacked Cast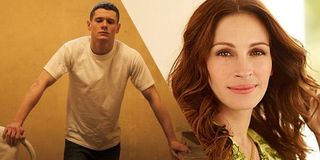 "Oh, what's that? George Clooney is in your movie? Count me in!" says just about the whole of Hollywood. The affable leading man is a magnet for attracting other A-list talent whether he's writing, directing, producing, or starring. So you better believe he's drawing stellar celebs to his soon to shoot thriller Money Monster.
The Wrap reports Julia Roberts and Jack O'Connell are in talks to join Money Monster, which will star George Clooney and be helmed by Jodie Foster. The film will be Foster's follow-up to her controversial Mel Gibson vehicle The Beaver.
Money Monster will follow a dastardly anti-hero named Lee Gates, a television personality who is considered a guru on all things Wall Street on his titular show "Money Monster." But when he gives his viewers some bad advice, one storms his show and takes Gates hostage on air. Instead of shutting the shoot down, cameras roll and more and more Americans tune in to what could be a live execution.
Of course, Clooney is on board to play Money Monster's irresponsible anti-hero, who doles out stock tips while hiding his illegal connections. Jack O'Connell is being eyed for the part of Kyle Budwell, the man who takes Clooney's character hostage. Described as a blue-collared father-to-be, Kyle decides he'll take advantage of Gates spotlight to expose the sinister culture of Wall Street stocks…while pushing to up the value of his own.
As for Clooney's Ocean's Eleven, Ocean's Twelve and Confessions of a Dangerous Mind co-star, Julia Roberts is said t be close to committing for the role of Nancy Fenn, the director and executive producer of the show within the film, and potentially a love interest for Clooney.
We first got word on this project back in the fall of 2012, when Jodie Foster signed on to direct Jim Kouf and Alan DiFore's script. Since then, We Are Marshall scribe Jamie Linden was brought in to rework the screenplay, and by the spring of 2014, Clooney was being wooed for its lying leading man. He signed on that summer, and with offers out to O'Connell and Roberts, we expect a start date for this drama should be announced in short order.
Julia Roberts would be a great get for Money Monster, not only for her star power, but also for chemistry with Clooney. Yet we're most excited to hear Jack O'Connell's in talks. he English actor who made his mark on Skins has had an incredible year that's garnered him scads of critical praise. In the spring, he burst on the scene as a soldier in 300: Rise of an Empire, but Oscar buzz arose as the prison drama Starred Up hit Stateside. Followed by the military drama '71, O'Connell's gaining major momentum as he heads into the December release of Angelina Jolie's biopic Unbroken. Though they are smaller movies, O'Connell has been a lead in all of these last three films. Now he's primed to co-star with Clooney in a role that will demand the kind of intensity and rage O'Connell has become known for. Color us pumped.
Money Monster is expected to open in 2015.
Your Daily Blend of Entertainment News
Staff writer at CinemaBlend.