Wow, Some Star Wars Toys Are Worth An Insane Amount Of Money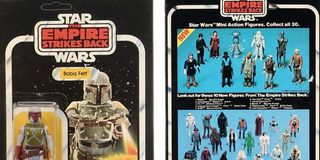 Kids playing with their miniature 3 and 3/4 inch Star Wars figures back in the late 70's and early 80's clearly had no idea that the little plastic men they were using to recreate scenes from their favorite film would actually be worth quite a bit of money. However, there are some vintage Star Wars figures whose worth go beyond just making a few extra bucks on ebay, like this rare UK-issued Boba Fett figure, which just sold at an auction for the US Dollar equivalent of $27,000!
According to Bloomberg, a recent toy auction held by Vectis Auctions Ltd. in Thornaby, Northern England would oversee the sale of a 70-figure collection of rare vintage UK-issued Palitoy Star Wars figures (Kenner issued them here in the States) from the collection of Craig Stevens, former chairman of the UK Star Wars Fan Club.
Besides a record-breaking final price for the Boba Fett, other high performers included an Obi-Wan Kenobi at $7,622, R2-D2 for $2,359 and a Yak Face (a beast-faced member of Jabba the Hutt's court) for $1,197. The auction's grand total would end up yielding an impressive $63,209 USD. It's certainly not the craziest number for geek-centric collectables, when one considers that a copy of Superman's 1938 comic book debut, Action Comics No.1 sold astronomically for over $3 million on ebay just last August. However, that was a nearly 80 year-old modestly-distributed pre-War comic book that was treated by just about anyone as a periodical to be read and thrown away.
Star Wars figures, on the other hand, were massively-produced and distributed around the world and represented a global cultural phenomenon from the get-go. (As the informative video above contextually demonstrates, besides giving us a creative new way to say "Darth Vader.") Breaking down the auction in which 70 of the aforementioned Star Wars miniatures were sold, the real headline becomes the fact that this was a $902.99 per figure affair. While this is clearly the result of the scarcity of some of the specific figures in question, it's still a huge chunk of change for toys from the last quarter of the 20th century. Most notably, the take from the UK Palitoy-issued Boba Fett figure, mint on its original unpunched card (referring to the perforated hole through which the toy would have hung in stores) with $27,221 is quite an achievement for a 37 year-old piece of plastic. In the immortal words of Boba Fett himself, "He's worth a lot to me."
It's a fascinating phenomenon, likely gaining momentum from the impending release of Star Wars Episode VII: The Force Awakens. However, it's doubtful that such a thing will ever be duplicated with the current state of the toy market. Star Wars figures went away in 1985, only to come back a decade later in 1995 to a market of collectors who bought in bulk, looking to turn toys into investment. – While there are odds and ends from the modern era of Star Wars figures that are worth a fair amount, the financial payoff did not quite pan out. With that said, Star Wars toys are as big of a phenomenon as ever in its various forms and the impending release of Episode VII this December will unleash a deluge of awesome toys for both the kids and the kids at heart to consume.
Your Daily Blend of Entertainment News