The Star Wars 7 Scheme George Lucas Backed Out Of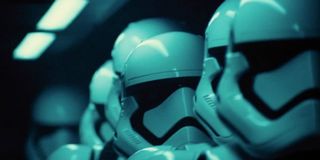 We all know the classic fairy tale of how George Lucas sold the Star Wars franchise to Disney, which then announced that they'd be developing a new trilogy to kick off with Star Wars: The Force Awakens and that J.J. Abrams would direct it. A classic tale! But did you know that Lucas originally made plans to write and direct the continuation himself before the big buy? Turns out it was a lot more extensive than he thought, which was why he put a cork on that inkling.
In promotion of his new film, an animated musical called Strange Magic, Lucas spoke to USA Today (opens in new tab) about his plan to make the trilogy. He even began developing it and had plans to make Star Wars: Episode 7 before selling the company. However, he realized that it would mean a 10-year commitment, which is not the most thrilling prospect. Ask any of the Marvel guys locked in a six-picture deal and they'll tell you it's no walk in the park. Thankfully for Lucas, Disney had expressed interest, providing him with an exit strategy. As he said:
The thought of Lucas developing the new Star Wars trilogy isn't all that surprising. He had already approached franchise mainstays Mark Hamill (Luke Skywalker), Harrison Ford (Han Solo) and Carrie Fisher (Princess Leia) about returning for another go. If you recall, a clip from a 1983 interview with Hamill was circulating throughout the web and featured the actor detailing Lucas' idea for Episode 7. According to Hamill, he was meant to play an Obi-wan-type character passing the torch down to a younger generation, and the film was projected to hit theaters in 2011. Lucas was only a few years off.
But in 2012, Lucas handed Disney the key to his Lucasfilm city and he never looked back. While he doesn't regret making the Star Wars films, there is one thing that's always bothered him.
He'll finally get his chance with the Abrams-directed Star Wars: The Force Awakens races into theaters this December 18. Thankfully for Abrams, he won't be locked in a 10-year commitment like Lucas originally thought. Rian Johnson will soon come in to pick up the reigns for Episode 8 and 9, so Abrams can be blown out of his seat.
Your Daily Blend of Entertainment News
Thank you for signing up to CinemaBlend. You will receive a verification email shortly.
There was a problem. Please refresh the page and try again.