Ghostbuster Ernie Hudson Could Grab An Important Marvel Role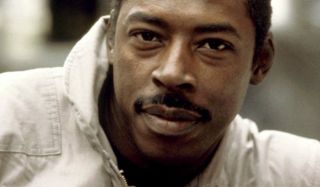 With Avengers 2 coming in the next few weeks, and Ant-Man following shortly after, it's time for Marvel to firm up the cast for the Phase 3 films. We already have a Black Panther in Chadwick Boseman, teases for which we'll be seeing in Age of Ultron, but he needs some supporting characters to fill the ranks. On that note, a new rumor has hit the web, revealing that the Wakandan hero could be joined by original Ghostbusters star Ernie Hudson.
According to Latino Review, Hudson is rumored to be circling the role of King T'Chaka. For those who need a quick brush up of their Marvel comic history, this guy is the Chieftan of Wakanda and the father to T'Challa, aka Black Panther. He decided to keep his kingdom in hiding after a meteorite filled with the coveted vibranium (what Cap's shield is made out of) fell into his territory. He also raised his son on his own -- his first wife died giving birth to the future Black Panther, and his second wife was taken prisoner. T'Chaka was killed by physicist Ulysses Klaw in his pursuit of the vibranium, which led to T'Challa taking his revenge by using Klaw's own weapons to sever his hand.
Interesting to note is that we've already met the Marvel Cinematic Universe version of Klaw. Andy Serkis plays the villain and will make his first appearance in Avengers: Age of Ultron. The title baddie of the upcoming film is such a global threat that Earth's Mightiest Heroes have to traverse various locations to stop his dealings. One of them is South Africa, which seems like a likely spot to encounter Klaw. There will also be numerous teases to the upcoming Black Panther movie in Age of Ultron, including those sea tankers bound for the African nation. In addition, a mysterious woman was shown in one of the film's trailers, and some speculated that she could be a member of the Wakandan nation, though we'll have to find out for sure when the film hits theaters on May 1.
Not much is known about the Black Panther movie, but the few details we have say a lot about the direction it will take. With Serkis involved in the MCU as Klaw, and Hudson reportedly circling T'Chaka, it seems as though a battle over vibranium might be the source of its spark. The solo film won't hit theaters until July 6, 2018, but Boseman will make his first appearance in Captain America: Civil War well before then. If the rumors surrounding this Marvel event are true, than Civil War will change the course of the MCU in more ways than one, and perhaps these effects will even be felt in the home of Black Panther.
Your Daily Blend of Entertainment News
Thank you for signing up to CinemaBlend. You will receive a verification email shortly.
There was a problem. Please refresh the page and try again.