The Ghostbusters Reboot Met With This Actress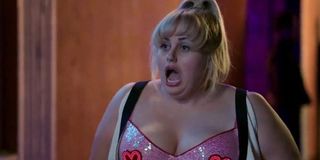 Who ya gonna call? Pretty much every actress in Hollywood, it turns out. Rebel Wilson is the latest to confirm that she has been approached to star in Paul Feig's Ghostbusters reboot, with the Australian announcing that she has held talks over appearing in the comedy.
But before you either dance a jig of delight or mourn the certain death of a beloved franchise because of her involvement, Rebel Wilson admitted that she is nowhere near to actually signing up to the film. In fact she confirmed to the Today Show that the script for the reboot hadn't actually been completed yet, and she will only decide whether she is appearing in the film once it has.
Rebel Wilson's potential involvement in Paul Feig's Ghostbuster'sremake would hardly be surprising. Paul Feig helped to break Rebel Wilson into Hollywood after he cast her in a brief supporting role in his beloved 2011 comedy, Bridesmaids. Since then the Australian comedienne has shot to prominence thanks to her performances in What To Expect When You're Expecting, Bachelorette and Pitch Perfect.
Approaching a Ghostbuster's remake will obviously be intimidating for the director. So it would make sense for him to hire an actress that he has worked closely with in the past. In his eyes, Rebel Wilson is the woman for the part. While it is still way too early to judge whether Rebel Wilson's potential casting is right or not, I have to admit I'd have my qualms if she was actually hired.
There's no denying the fact that Rebel Wilson is immensely funny. In fact that would be my biggest concern if she was cast. Let me explain. Rebel Wilson does have a tendency to dominate scenes that she stars in. And there's every chance that the comedic ebb and flow that was at the heart of Ghostbusters and Ghostbusters II wouldn't have a chance to develop in the reboot if she did appear. At the moment though, this is still a preposterous statement to make as we have no idea who might be starring opposite her or if she is even in the film at all.
Either way, this is still Paul Feig's first and biggest hurdle when it comes to the hugely anticipated comedy. Alongside the film's producers, and its writer, Katie Dippold, Paul Feig must make sure that he gets the perfect combination of actresses. Paul Feig has already proven that he can do just that with Bridesmaids. But now he has almost every actress in Hollywood at his disposal, as the competition to appear in the film will be unprecedented. The easy choice would be for him to simply pack the comedy with the most talented actresses he can think of. And the fact that he has allegedly already held discussions Jennifer Lawrence and Rebel Wilson before the script is even finished suggests that he might be doing just that. But, as I've already declared, let's wait and see before we get too het up about the rumored casting.
This poll is no longer available.
Your Daily Blend of Entertainment News
Thank you for signing up to CinemaBlend. You will receive a verification email shortly.
There was a problem. Please refresh the page and try again.