Glenn Close Dons Convincing Drag On The Albert Nobbs Set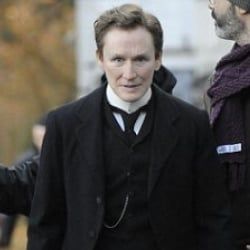 With her short haircut and thin frame Glenn Close is an easier candidate for cross-dressing than many women, but I don't think anyone anticipated exactly how well she'd pull it off until seeing photos from the set of her new movie Albert Nobbs, about a woman cross-dressing to find work in 18th century Ireland. The Daily Mail snagged the photo of Close in costume walking to the set, and you can see a larger version of it below. It's pretty damn impressive, I have to say.
Close has been working to get Albert Nobbs made for years and production is finally getting started, with Aaron Johnson, Jonathan Rhys-Meyers, Mia Wasikowska and Michael Gambon also part of the cast. Rodrigo Garcia, who last made the drama Mother and Child, will be directing the adaptation of the play based on a short story. Close has been clearing up awards nominations for her long-running role on Damages-- she was part of the SAG Awards nomination lineup just this morning-- but Albert Nobbs could be her chance to return to movie glory at last. It's a long-overdue return if you ask many of us, and I'm looking forward to see if the rest of the film is as convincing as this impressive cross-dressing.
Staff Writer at CinemaBlend