Glenn Close Returning To Movies As A Crossdresser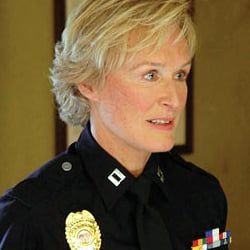 Lately the only place to catch most of Glenn Close's considerable acting talent is on television, where Close pretty much rules the world as the lead character on Damages. But now it looks like the right role has come along to give her her first leading movie role in years. According to Screen Daily, Close will star for her Nine Lives director Rodrigo Garcia in Albert Nobbs, an adaptation of the stage play that won Close an Obie in the 80s.
What's this role that Close can play twice, 30 years apart? Close's character is apparently a woman living in 19th century Ireland who is forced to disguise herself as a man in order to survive. Close is quoted in Screen Daily saying "I believe in this story and its potential to take everyone on a sensuous, funny, heart-breaking ride." Orlando Bloom, Michael Gambon and Janet McTeer will co-star.
Having just seen and largely loathed Garcia's Mother and Child at Sundance, I'm not all that anxious to see what he gets up to next. But then, another Glenn Close starring role is something to be grateful for no matter the circumstances. Maybe this can be Garcia's opportunity to make it up to me.
Your Daily Blend of Entertainment News
Staff Writer at CinemaBlend