The Great Gatsby's Elizabeth Debicki Snags Big Man From U.N.C.L.E. Role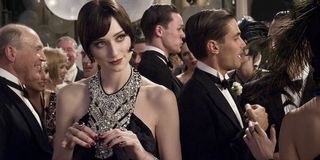 It might have been hard to focus on her, given how many sparkles and heavy-handed symbols were flying at you in 3D, but Elizabeth Debicki was one of the biggest bright spots in Baz Luhrmann's The Great Gatsby, playing the slinky and sloe-eyed Jordan Baker as the unflappable straight woman in this crazy world. The part seemed to destine her for bigger things, and now she's found at least one of them. Variety reports that Debicki will star opposite Armie Hammer and Henry Cavill in The Man From U.N.C.L.E., an adaptation of the 1960s spy series that Guy Ritchie is directing.
Alicia Vikander is already in to play the film's female lead, a fellow agent, so Debicki will be filling in what's described as a femme fatale role. Apparently producers had originally eyed heavy hitters like Rose Byrne and Charlize Theron for the part before offering it to Debicki, which really does speak to her scene-stealing skills in Gatsby. The Lone Ranger and Superman-- a.k.a. Hammer and Cavill-- will be the film's two leads, a Russian and American spy who team up to fight the evil forces from the organization THRUSH. (You can see how the American-Russian combo was a little more revolutionary when the show first aired in the 60s). The American role, Napoleon Solo, originally belonged to Tom Cruise, who then bailed to focus on Mission: Impossible 5. Cavill signed on to replace him just weeks before Man of Steel opened, but there's been no word on whether or not the script was rewritten to accommodate the younger star. Given that Cruise routinely takes on parts he's too old to play, I can't imagine it's much of a problem.
The Man from U.N.C.L.E. movie adaptation has been floating around seemingly forever, with Wedding Crashers helmer David Dobkin first attached, then for a long time Steven Soderbergh, and then finally Ritchie signed on at the end of 2011. Cruise's departure should hopefully be the last big one the movie will have to deal with, since Ritchie is now busily assembling his cast, and with rising stars whose schedules are a lot less tricky than Cruise, who's got his own continuing franchise to shepherd.
The film should obviously be big news for both Debicki and Vikander, two up-and-comers who could use the exposure, and could be another element of the rapid ascendance of Henry Cavill, who has no lack of big projects to look forward to. But it's Hammer who probably has the most to gain or lose. His last attempt at reviving a vintage franchise for the big screen ended disastrously, and he's currently an actor with all the good looks and potential in the world, but no hits to show for it. Can The Man From U.N.C.L.E. be what finally gets him there? I'd say "no way," but Ritchie pulled off a minor miracle with his energetic Sherlock Holmes adaptations. If Hammer wants something that's finally foolproof, a big-budget Ritchie film is the way to go. Then again, we would have said that about a big-budget Gore Verbinski film six months ago.
Your Daily Blend of Entertainment News
Staff Writer at CinemaBlend