Groundhog Day Premise Borrowed For A Wedding Rom-Com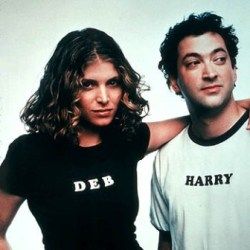 A couple of years ago my wife and I embarked on our honeymoon. It was a time of bliss as we boarded the plane to Mexico. One of the few free, in-flight movies offered was Made of Honor. I got through about forty-five minutes of the unfunny, completely ridiculous premise before contemplating making a leap out the emergency door.. Even after this rocky beginning, my wife and I are still married, and somehow the Made of Honor writers are getting jobs. The Hollywood Reporter has it Deborah Kaplan and Harry Elfont, the writers behind Patrick Dempsey becoming his best friend's maid of honor, are getting their crappy pens ready for a draft of Universal's Repeat After Me.
What's even more amazing about this story is that Kaplan and Elfont are actually considered the "go-to" team for romantic comedies. I guess that kind of thing happens when you write such virtuosic works as Leap Year, Surviving Christmas, Josie and the Pussycats, and A Very Brady Sequel. Actually, what am I saying, of course they're getting jobs.
Repeat After Me will focus on a woman forced to relive her terrible wedding day over and over again, Groundhog Day-style. I can't see this premise getting annoying at all.
Your Daily Blend of Entertainment News
Doug began writing for CinemaBlend back when Terminator: The Sarah Connor Chronicles actually existed. Since then he's been writing This Rotten Week, predicting RottenTomatoes scores for movies you don't even remember for the better part of a decade. He can be found re-watching The Office for the infinity time.