Gwendoline Christie May Play A Gender-Swapped Villain In Star Wars: Episode VII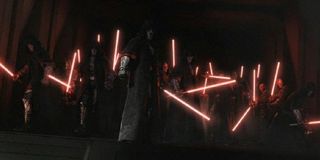 Star Wars Episode VII is currently filming with a better than expected cast. This has gotten Star Wars fans excited, but it's also led to more speculation and confusion. Much of it has centered on newcomer Gwendoline Christie of Game Of Thrones, who has landed a major role. Now, if sources are to be believed, Christie may be playing one of the film's major villains.
Badass Digest claims to have uncovered the nefarious past of Christie's character as well as her relationship to John Boyega's character. Needless to say, these are potential spoilers, so STOP reading now if you don't want to know.
Apparently Christie is an Imperial Officer chasing after Boyega's deserter, a former stormtrooper. But what the scooper claims is most interesting is that Christie has been training with an actual lightsaber. Which, if true, is an incredible feat of science, because lightsabers aren't real. But maybe she's just preparing anyway. In the film, if she has a lightsaber, it essentially would make her a member of the Sith. And we all know what that means: a terrible health care package. THANKS, OBAMA.
Badass Digest has also uncovered a bit of additional information that sheds a light on Christie's character. For one, the part that Christie is playing might be one that was gender-swapped, originally earmarked for Benedict Cumberbatch (who eventually didn't take the role, on account of him having a deep hatred of Wookiees). For another, she's definitely an Imperial Officer, and poised to be one of the big villains of the piece. So, yeah, probably Sith. Dirty dirty Sith.
There was a bit of an uproar in regards to the lack of female cast members in the early cast announcements. While later cast additions muffled and nullified those concerns, it may be because gender-neutral roles were swapped out instead. Badass Digest calls this "brave" and "progressive", which is, of course, ridiculous. The assumption is that a character's sexual identity will matter in Star Wars, one of the most sexless fandoms in the world. There's nothing brave and progressive about turning one action figure from a girl to a boy. The real progressive step (and maybe JJ Abrams and his crew can achieve this) is writing characters with a specific female identity, not just a decently-written character with gender-neutral goals. "A long time ago in a galaxy far, far away" we can probably assume the populace still had a decent 50/50 male/female ratio. Giving the women characters (as well as the males) identities that specifically define their genders would be a breakthrough. Christie is wise to take such a big role, and the hope is the production awards her with material worthy of her stature not only as a performer, but as a woman.
Star Wars: Episode VII opens December 18th, 2015 . Quit lying, you're probably gonna watch it.
Your Daily Blend of Entertainment News
Thank you for signing up to CinemaBlend. You will receive a verification email shortly.
There was a problem. Please refresh the page and try again.