Harry Osborn Will Be In The Amazing Spider-Man 2, But Who Will Play Him?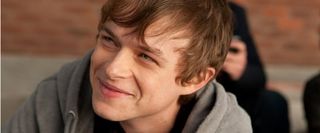 Who will be the next James Franco? Not actually replacing James Franco, of course-- I'm not sure anybody could do that if they tried. But one young up-and-coming actor is going to get the same big break Franco did 10 years ago: the chance to play Harry Osborn in a big Spider-Man movie.
Though Peter Parker's pal Harry was absent from this summer's The Amazing Spider-Man, the character will appear as a college-aged kid in the upcoming sequel, and according to The Hollywood Reporter director Marc Webb is already eyeing a few specific actors to take the part. There's Brady Corbet, who's made his name in indies like Martha Marcy May Marlene Simon Killler; there's Dane DeHaan, who was stunning in the low-budget superhero smash Chronicle earlier this year; and there's Alden Ehrenreich, who's staring in the upcoming novel adaptation Beautiful Creatures. THR is careful to note that the character is still evolving, and the list of actors could change-- Harry was to start off as a big, athletic type but has apparently been adjusted to be more "dark and edgy," which sounds like it will make him pretty similar to the version Franco played in the original Spider-Man.
It continues to be fascinating to watch how the new Spider-Man movies handle age, since their star Andrew Garfield is a 29-year-old playing a high school kid, and everyone has to be cast to look reasonable around him. There's already the challenge of 21-year-old Shailene Woodley being cast as Peter's future love interest, Mary Jane Watson, and now all three of these actors listed for Harry are younger than Garfield by about 4 years. Of course, this is movie magic, and they can make these things work. But given that Dane DeHaan is 25 and looks about 15, it could be very odd seeing him square off against a very grown-up looking Garfield.
We'll let you know if they confirm anyone for the cast, of course, as soon as we know ourselves. The Amazing Spider-Man is currently set for release on May 2, 2014.
Staff Writer at CinemaBlend
Your Daily Blend of Entertainment News
Thank you for signing up to CinemaBlend. You will receive a verification email shortly.
There was a problem. Please refresh the page and try again.