Has Fantastic Beasts And Where To Find Them Begun Casting?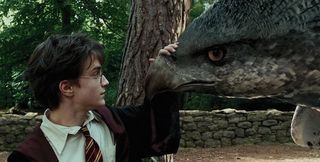 The search for Newt Scamander is underway! Those keeping up with the latest Harry Potter news know that plans are well underway to bring an adaptation of J.K. Rowling's reference guide Fantastic Beasts and Where to Find Them to the big screen. Filming is expected to start this summer, and it looks as though the casting process has begun.
UPDATE: SnitchSeeker is now reporting that, according to a source at Warner Bros, this casting news is a false rumor. We'll keep you posted if there are any further updates.
Below is the original article.
Acting-Auditions.org posted the casting update, which confirms that shooting for Fantastic Beasts and Where To Find Them will take place in the U.K. and New York, starting in August 2015. Submissions for the cast are now being accepted. In order to be eligible for the cast or crew, you must have the necessary work permit documents to work in London and the U.K. Acting-Auditions provides additional details on that, as well as the address for Fiona Weir Casting, which is where hopefuls can send their headshots and resumes.
Unfortunately, no details about the roles being cast were specified, which leaves us in the dark about the characters for this film, beyond Newt Scamander. Fantastic Beasts and Where to Find Them is neither prequel nor sequel, but technically an "extension of the wizarding world," centering on magizoologist Newt Scamander, the man who -- seventy years or so before the events of the original Harry Potter series -- wrote the titular textbook, which would go on to be studied by Harry, Ron, Hermione and plenty of other students at Hogwarts.
While new details are scarce, we do know that the script is complete, or mostly finished. Back in November, it was reported that J.K. Rowling had finally finished the film's script. However, SnitchSkeeker recently ran an interview with Harry Potter graphic designers Miraphora Mina and Eduardo Lima, and from what they said, it sounds like the script may still be in development. "But we are hoping that we are going to be full force very soon," Lima noted in the interview.
With the casting process beginning, it sounds like production is ready to start lining up talent. As exciting as it'll be to learn who is going to star in Fantastic Beasts, the eventual casting updates will also hopefully shed further light onto the plot of this story and who's involved, in terms of characters. We know that Fantastic Beasts will be set in the 1920s, and center on Newt Scamander as he conducts the necessary magical beast research to write his textbook. J.K. Rowling revealed that the story would begin in New York, and from the sound of it, that's where Newt will remain for the duration of the (first) film.
Putting Newt in America could limit the possibility that he would come into contact with witches and wizards who are either directly or indirectly connected to the Harry Potter books. But I'm still hopeful that Dumbledore will -- at the very least -- make an appearance. The eventual headmaster of Hogwarts was alive and kicking in the 1920s. In fact, by the books' timeline, he would've been thirty-nine in 1920. So it's not out of the question that he might play a part in this new story.
It's likely just a matter of whether or not Rowling wants to delve further into Dumbledore's long history, or keep this story mostly separated from the characters we came to know and love in the Harry Potter books. Even if Rowling is open to tying Fantastic Beasts to Harry Potter through the characters, it's unlikely that many of the other older Harry Potter characters would pop up, given just how far back Fantastic Beasts is set. Dumbledore may have been around back then, but Tom Riddle, for example, wasn't born until 1926. Minerva McGonnagall was born in 1925.
Still, there are characters like Nicolas Flamel and other notable magical people referenced in Rowling's world, who might tie in to this new story in some way. We can only speculate for now, and hope that casting news will shed some light on what's in store from this highly anticipated film.
Fantastic Beasts and Where To Find Them is expected to arrive in theaters on November 18, 2016.
Your Daily Blend of Entertainment News
0
Assistant Managing Editor
Kelly joined CinemaBlend as a freelance TV news writer in 2006 and went on to serve as the site's TV Editor before moving over to other roles on the site. At present, she's an Assistant Managing Editor who spends much of her time brainstorming and editing feature content on the site.
Your Daily Blend of Entertainment News
Thank you for signing up to CinemaBlend. You will receive a verification email shortly.
There was a problem. Please refresh the page and try again.