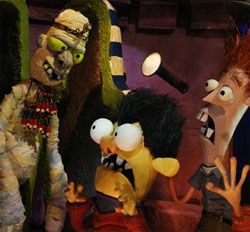 The Henson name is synonymous with puppets, or rather, Muppets. Not so much animation, but everyone deserves a shot at it these days, right?
According to THR, The Jim Henson Co. has joined forces with a team from Screen Novelties to begin production on Monster Safari. The team includes scribes Craig Zobel and Matt Chapman as well as directors Mark Caballero, Chris Finnegan and Seamus Walsh. Based on a previous Screen Novelties short, the movie will be stop-motion animated and will likely revolve around monsters on some sort of safari, probably in the jungle.
I'm not familiar with any of their previous work, but Screen Novelties seems to have a pretty interesting style going and working with Henson will only help that. Although I'm skeptical about anything stop-motion that isn't done by Aardman, this should be an interesting addition to the genre. Check out their website here for an idea of what their films look like. All I'm hoping for is a Kermit cameo.
Your Daily Blend of Entertainment News