Here's How Saw And Its Fans Plan To Celebrate The Film's 10th Anniversary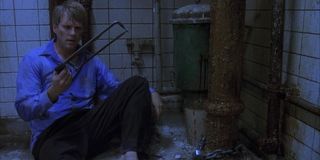 We're less than a month away from the ten-year anniversary of Saw, the film that reminded all of us that waking up inside a locked industrial bathroom chained to a pipe opposite another man in the same precarious situation with only a supposed corpse between you, is never a good thing.
To celebrate the special anniversary, the iconic horror film will be re-released in theaters for one week only over Halloween. To mark this occasion, a new trailer has also been sliced together, and it allows audiences to re-live the horrors that the Jigsaw Killer put Cary Elwes' Dr. Lawrence Gordon and Leigh Whannell's Adam Stanheight through in the 2004 film. You can watch it below, or, if you want to wait to see it on the big screen, you can go and see Annabelle, because it will be on before each screening of John R. Leonetti's supernatural horror this coming weekend.
But that's not all! An eerie new Saw poster has also been designed, which celebrates, arguably, the film's most infamous image. With a reverse bear-trap locked onto her heard, Amanda Young (Shawnee Smith) is only given a minute to stop it from ripping her jaw open. She manages to escape by gruesomely retrieving the key from inside her not-so-dead cellmate's stomach. You can check out the nifty poster right here:
Five more limited-edition collectable posters will be released on a weekly basis to mark the countdown to the re-release of the film, courtesy of Fandango. Saw's return to theaters will begin on October 31st, but you will also be able to see an early screening at 10pm on Thursday, October 30th. For the uninitiated, Saw was shot on a $1.2 million budget over 18 days, and after it was screened at Sundance in January 2004 it developed a strong-word-of-mouth following that resulted in it generating $103 million at the box office when it was finally released in October. That still doesn't forgive the barrage of sequels that followed annually for years, which, despite their financial success, were truly depressing to watch and also helped to introduce the horrific term "torture porn" to moviegoers everywhere. •Shudder•.
Your Daily Blend of Entertainment News
Thank you for signing up to CinemaBlend. You will receive a verification email shortly.
There was a problem. Please refresh the page and try again.