Here's What Hawkeye And Black Widow's Hideous Baby Looks Like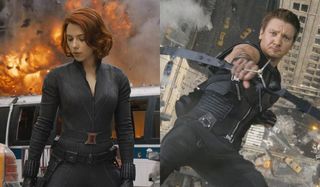 Have you ever wondered what Hawkeye and Black Widow's baby would look like? Of course you have. Jeremy Renner and Scarlett Johansson are two preposterously good-looking people who sizzled with chemistry throughout Joss Whedon's 2012 blockbuster, The Avengers. Well, here's your answer:
Check out that ungodly image that Jeremy Renner recently uploaded to his Twitter account. When Renner unleashed the nauseating picture on his 81,000 followers, he did so alongside the caption: "Hawkeye and Widow? Widow and Hawkeye??? Hmmm. #iftheyhadababy #widow #hawkeye."
There is just something unsettling and innately gross about seeing Renner as Clint Barton wearing what appears to be a mask of Scarlett Johansson's Black Widow face. However, if you're able to take your eyes away from the truly terrifying, yet oddly hypnotic, coagulation of two beautiful Avengers, then you'll also realize that it gives us a pretty good look at Hawkeye's attire for the upcoming sequel to the third-most-successful film of all time.
So what can we learn from his new suit? Well it's basically exactly the same as what he wore in the 2012 blockbuster, but it has now, understandably, lost the S.H.I.E.L.D. logo after it was revealed that the organization was filled with devious miscreants in Captain America: The Winter Soldier. On-set pictures have previously confirmed that Hawkeye will wear this suit in at least one scene with Elizabeth Olsen's Scarlett Witch, but then it's also been revealed that he will change into a different look that is much more reminiscent of his comic-book costume. Thank God.
Costume designer, Alexandra Byrne, who has worked for Marvel Studios for several years and even won an Oscar for her efforts on Elizabeth: The Golden Age, hasn't done much to Hawkeye's lower half. But his new jacket (seen in set pics) embraces the same colors that he displayed before, meaning he will be able to go toe-to-toe with villains while also not catching a cold.
Recently, the first plot details for Age Of Ultron were finally released, and they detailed that Tony Stark/Iron Man's pursuit to introduce a new peace-team treaty to the globe is what provokes James Spader's Ultron to wreak havoc. The foe, who has been described as a "terrifying technological villain hell-bent on human extinction," then comes up against The Avengers, who try "to stop him from enacting his terrible plans, and soon uneasy alliances and unexpected action pave the way for an epic and unique global adventure."
Avengers: Age Of Ultron will hit cinemas on May 1, 2015. Hawkeye and Black Widow's illegitimate child will hopefully not be featured.
Your Daily Blend of Entertainment News
Thank you for signing up to CinemaBlend. You will receive a verification email shortly.
There was a problem. Please refresh the page and try again.