Heroes Cheerleader Saves A Nerd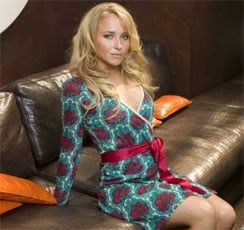 Heroes star Hayden Panettiere can't seem to escape her pom-poms. Either that, or she just loves hanging around in high schools. The fast-healing babette is playing another cheerleader, this time in a Fox Atomic movie called I Love You Beth Cooper.
She also played a cheerleader in Bring It On: All Or Nothing, but I'd like to think our beautiful readers are much too smart to rent something like that. Unless of course our male readers saw Hayden on the cover and bought it simply for it's babe value. We're all slaves to our libido gents. Give it up and embrace it.
According to HR Hayden plays not only a cheerleader, but Beth, the school's hottest cheerleader. She's also nicer than most of the cheerleaders I went to school with, since the film follows her around as she takes pity on the school's nerdy valedictorian and shows him a good time after he bravely confesses his unrequited love for her. Nerd gets the girl fantasies are the sort of thing I can get behind.
Your Daily Blend of Entertainment News