The Historic Marvel Moment That Made Everyone On The Civil War Set Cry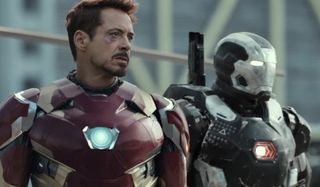 When Chris Evans and Robert Downey Jr. walked onto the set of Captain America: Civil War, it was like old times. When Black Panther stepped out for the first time in costume, emotions were high.
When we visited the set of Captain America: Civil War in the sweltering Atlanta, Georgia, in the middle of June, Chadwick Boseman's stunt double was seen sparring with The Winter Soldier (Sebastian Stan's stunt double) in the background as Black Widow (Scarlett Johansson) and Hawkeye (Jeremy Renner) had a repeat of their scuffle in The Avengers. Said co-director Joe Russo:
Chadwick Boseman will make his first appearance as T'Challa, the prince of Wakanda (a.k.a. Black Panther), in Captain America: Civil War. The actor confirmed this isn't an origin story for him. That part comes later when Boseman headlines his character's solo film in 2018.
Though he admits he wasn't fully aware of Black Panther's history and didn't read many comics as a kid, he dove into the material and read as many storylines involving the character as possible. He even traveled to South Africa to incorporate real-world cultural aspects into his iteration, which is the first time Black Panther is appearing in a live-action feature film.
Boseman said,
Though Black Panther is shown in the Captain America: Civil War trailers on the side of Team Iron Man, his true allegiances are unclear. There have been reports about where he'll align, but we'll find out what he's really up to when the film hits theaters on May 6.
Over the past few months, a ton of spoilers about Captain America: Civil War have leaked. We didn't want to put them here, but if you really want to know the shocking secrets that have come out, click over to Page 2.
Because of the heightened interest and the intense media coverage, a whole lot of secrets have come out about the movie already. Only time will tell how many of them are true, but fans are having a ton of fun speculating about what's to come. You can check out the biggest potential spoilers we've learned so far below. Read at your own risk...
Someone Major's Probably Going To Die
This rumor has been swirling around for months now, and it's a little more common-knowledge for those who read Marvel comics on a regular basis. But in the Civil War comic that inspired this new Marvel sequel, several heroes bite the dust… and from what we hear, the movie will follow suit on this. Find out who might not make it to the end credits of Captain America: Civil War by clicking this link.
But that's not all.
Thanos, Marvel's Mightiest Villain, Won't Be In Civil War
We know that Thanos (as played by Josh Brolin) will be the driving force of the two part Avengers sequel, Infinity War, which is due in theaters in 2018 (for Part One) and 2019 (for Part Two). But the directors of Civil War explained to us why Thanos will NOT be a part of the upcoming Captain America sequel, and their answer made a ton of sense. Click here to read it.
Spider-Man Is In This Movie
Played by new actor Tom Holland, this will be the first time that Spider-Man will appear in a Marvel movie, following a landmark deal between Sony and Disney to let Marvel Studios use the classic character in a movie. Click here to learn all about the newest Spider-Man!
Ant-Man Gets A New Costume
Marvel superheroes tend to receive upgrades with each passing film. Think how many Iron Man suits Tony Stark (Robert Downey Jr.) has worn over the years. Even though Paul Rudd only played Ant-Man once, his hero will sport a new suit in Civil War… and he will fight on the side of Team Captain America.
Need more Captain America: Civil War information? Bookmark this page and check it often.
Your Daily Blend of Entertainment News