This History Of Batman Theme Songs Medley Is An A+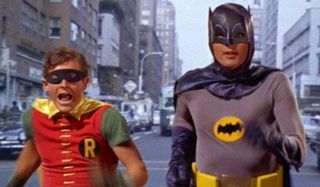 The Piano Guys have paid homage to Batman's iconic soundtrack with a four minute and 21 second video homage that zips from the 1966 television series to Tim Burton's 1989 cinematic reboot before finally ending on Christopher Nolan's lauded Dark Knight trilogy with aplomb. It's an amazing celebration of Neal Hefti, Danny Elfman and Hans Zimmer's work, and if you call yourself a Batman fan you need to spend a good portion of your day watching the above video.
I know, I know – it's pretty special isn't it? This isn't the first time that The Piano Guys have taken on classic movie material though, and over the last few years the group -- which consists of Jon Schmidt, Steven Sharp Nelson, Paul Anderson, and Al van der Beek -- have replicated Star Wars, Frozen, and the Bourne trilogy's soundtracks, while their first three major-label albums each reached number one on the Billboard New Age and Classical Albums charts too.
But, in my opinion, Batman Evolution has raised the bar even further. In fact, you should probably stop reading and go and watch the above video again. I won't judge. The Piano Guys' YouTube account even provides a rather stirring story behind-the-song too, which you can read below.
Batman fans from across the world have also clearly embraced the video, because it's already been watched over 1.5 million times on YouTube. But while the performances of Schmidt on piano and Nelson on his various cellos have been rightly lauded, special praise also needs to be reserved for Paul Anderson and Shaye Scott's suave direction. With only Adam West, Michael Keaton and Christian Bale's Batmobiles in the background, the video still manages to effortlessly meander from the bright sets of the 1966 television series, to Burton's gloomier, smokier and dingier aesthetic, before ultimately concluding with an homage to Nolan's sleeker, more grounded films. They even conclude with their very own Piano Guys signal that shines over Gotham, and while I'd be very surprised if they could tackle crime in the same way as Bruce Wayne, I'm pretty sure they'd make more people dance than him.
Your Daily Blend of Entertainment News
Thank you for signing up to CinemaBlend. You will receive a verification email shortly.
There was a problem. Please refresh the page and try again.