Hope For A Community Movie? Ken Jeong Weighs In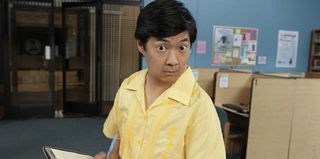 Six seasons and a movie! So goes the refrain of fans of the embattled, formerly NBC sitcom Community. It took some doing, but the saga of the misfit students of Greendale Community College did in fact get a sixth season, and star Ken Jeong has hopes for not only a movie, but another year as well.
Jeong is working on Dr. Ken for ABC, a comedy series that he both stars in and executive produces, but talking to Variety, there's no question that he is up for more Community, producers just need to call and he'll be there. They caught up with him as he was leaving for the day and he said:
While his enthusiasm is definitely welcome news for fans, his words aren't exactly the most encouraging things you've ever heard. Sure, Jeong would sign on in a second given the chance, and from what we've heard, so would many of the other key cast members—at least the one that haven't already jumped ship—but though it is bound to be a topic of conversation, the wheels don't appear to have started rolling in any real capacity.
Then again, Community is a show that has battled through all obstacles and come back from the dead before. Despite a rabid and almost immediate cult following, it was on the verge of being cancelled numerous times. NBC and creator and showrunner Dan Harmon split, leading to the much-maligned season 4, and though he returned for season 5, that year got a limited number of episodes. Along the way, core members of the cast, including Chevy Chase and Donald Glover, left the series, and the show was cancelled. However, Yahoo ultimately came to the rescue, and a web only season 6 recently wrapped up its run.
Though Community may be the little show that could, we'll have to wait and see if it has a future, either more episodes or an actual movie. However it shakes out, if there is more in store, you can bet Ken Jeong and his Ben Chang will be there. He'll be knocking on doors, and as he says, "There's always room for a little Chang in anything."
Your Daily Blend of Entertainment News