Ken Jeong Is Coming Back To Network TV, Get The Details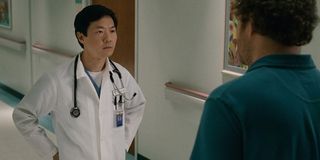 Ken Jeong, better-known as Señor Chang these days, is back at it. He was among those who disappeared into the small screen ether, along with the rest of his Community co-stars, when the comedy show was cancelled, only to later be picked up on Yahoo Screen. While we will no longer see him on NBC, he has just been given another chance at network television with the recent greenlight for his ABC comedy pilot Dr. Ken.
The old saying goes that "art imitates life and life imitates art," but nobody has really defined where the medical profession fits into the mix with the famous quote, until now. Jeong, a former general practitioner, has been given the go-ahead with Dr. Ken, where, according to Variety, he will play a frustrated HMO doctor trying to balance his work, marriage and children, but isn't doing very well with any of them. Jeong will not only star in the hopeful series, he will also write and co-executive produce the Sony Television and ABC Studios pilot, along with Jared Stern (The Internship) and Mike O'Connell.
As funny as Ken Jeong M.D. may sound for a television show, it actually really does have roots in reality. Before Jeong made it in Hollywood, he was indeed a medical doctor. A "doctor by day, comedian by night," so to speak. Jeong talked about it in a segment with NPR in April of 2014.
It is not a question of whether Jeong is hilarious or not, it is a matter of whether his style of comedy speaks to the individual. His blossoming career, with new gigs always appearing in his path, is proof he has been connecting with a growing audience. He first caught people's attention in Judd Apatow's Knocked Up, the film he credits for opening the door to his role as Mr. Chow in Todd Phillips' The Hangover (which ultimately changed his life overnight). You may not remember him in the former, but I argue there is no way anyone could have come out of the latter without noticing him.
There's no word as of yet as to when we'll get word on Dr. Ken's future on ABC, but in the meantime, you can catch Jeong in the upcoming 13-episode Season 6 of Community, premiering on March 17 on Yahoo Screen.
Your Daily Blend of Entertainment News