Hope You Like Jason Momoa's Aquaman, He's Going To Be Around A While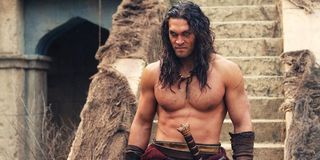 The big DC film slate announcement in October finally confirmed months of speculation that Game of Thrones actor Jason Momoa would be playing Aquaman in the DC Cinematic Universe. Since then, Momoa has been expressing his excitement for playing the aquatic superhero in interviews, at conventions and on social media. It's slowly becoming clear that Aquaman is being set up as a big player in the DCCU, possibly on the same level as Superman, Batman and Wonder Woman, a.k.a. the DC Trinity. This weekend further proved that, as Momoa has revealed the length of his contract over at Warner Bros.
While speaking at the Comic-Con Experience is São Paulo, Brazil (via Collider), Momoa mentioned that he's currently contracted to appear in four DC Comics films. While he didn't specify what they are, Aquaman has a solo film scheduled for 2018 and is rumored to debut in 2016's Batman V Superman: Dawn of Justice. Momoa also mentioned several months ago that the King of Atlantis would be part of Zack Snyder's Justice Leaguestory, so presumably the other three films on his contract are Justice League: Part One, Justice League Part Two, and the solo Aquaman movie. Basically, this means audiences could be seeing Aquaman once a year between 2016 and 2019.
There's still not a lot Momoa can say about the role, but he did give the audience some teases, most notably describing the film version of the King of Atlantis as "badass" and saying that Aquaman skeptics "will be silenced." Despite having its main actor cast and a script plan worked out, Aquaman still hasn't found a director yet, but Momoa already has someone in mind. Citing his admiration of Zack Snyder's work, he mentioned that he'd "love" if the 300 director would direct the solo film. Considering that Snyder is already in charge of the Superman and Justice League parts of the DCCU, one can imagine that WB will likely pick someone else to helm the King of the Seven Sea's solo adventure.
It looks like DC and Warner Bros are taking their cues from Marvel Studios by locking actors in for longer contracts - and that isn't exactly surprising. These days it's becoming the norm to for actors joining a superhero franchise to sign on for multiple films, since the intricacies of the shared universe mean that the studios have to plan out the stories years in advance and want to make sure that they don't have to constantly renegotiate deals. It seems like Warner Bros is taking a slower approach than Marvel, which typically signs its main stars to six movies or more at a time. However, with all the work that's going into the DCCU, it's likely that Momoa will sign on for more movies in the future, such as an Aquaman sequel or a third Justice League film. In other words, get ready to see a lot of Momoa swimming around and wielding a magical trident.
Connoisseur of Marvel, DC, Star Wars, John Wick, MonsterVerse and Doctor Who lore. He's aware he looks like Harry Potter and Clark Kent.
Your Daily Blend of Entertainment News
Thank you for signing up to CinemaBlend. You will receive a verification email shortly.
There was a problem. Please refresh the page and try again.