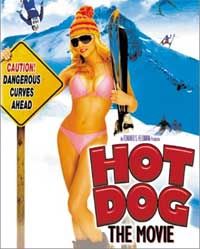 There's no way this one actually gets made. If a Revenge of the Nerds sequel can't make it out of the gate, then what hope is there for Hot Dog... The Movie. I got a little queasy just typing that.
Yes dear readers, the incredibly active guys over at MovieHole have uncovered a blurb in the resort industry magazine Mountain News (have fun on your ski trip Clint) which says that Hot Dog... The Movie lives.
The original 1984 movie starred future softcore porn juggy queen Shannon Tweed and soon to be obscure actor David Naughton in a skiing comedy full of wet t-shirts and horrible frat boys. Mike Marvin wrote it, and aside from a single episode of MacGyver it turned out to be the high point of his career. So with the resurrecting of bad 80s comedy movies in the spotlight, it's no surprise that he's now pushing for another one. What else has he got?
Marvin tells the skiing industry that he "hopes" to start shooting a sequel in 2007 in the same place he shot the first one, Squaw Valley. If he does, expect Native American groups to protest the Ski Resort's name. In a strange bit of coincidence, 2007 is also the year when I hope to win the lottery.
Your Daily Blend of Entertainment News
Thank you for signing up to CinemaBlend. You will receive a verification email shortly.
There was a problem. Please refresh the page and try again.