How Charlie Hunnam Feels About Dropping Out Of Fifty Shades Of Grey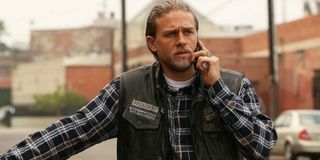 Before Jamie Dornan was offered the role of Christian Grey in Fifty Shades Of Grey there was an entire rigmarole involving Charlie Hunnam. The Sons Of Anarchy star was originally cast as the titular character, however, just over a month after he was confirmed for the part Hunnam dropped out. Since then there's been a cloud of mystery over why he departed, but now the actor himself has opened up about leaving, and clearly it was a period of tremendous pain for him.
Speaking to V Man Magazine, via Yahoo, about dropping out of the production, Hunnam looked to clear up some of the rumors that have circulated over why he actually left. From the sound of things, Hunnam just wasn't in the right mental shape to proceed with the demanding role. The English actor explained:
After it was announced that Charlie Hunnam wouldn't be starring as Christian Grey, rumors started to swirl that he left because of the, as the actor himself puts it in the interview, "the explicit nature of the sexuality of the piece." There's just one problem with that theory, and any of you who have ever seen Queer As Folk will know exactly what that is.
That's because Charlie Hunnam starred in Russell T. Davies' (Doctor Who) explicit gay drama when he was just 18-years-old, and the actor responded to people who thought he couldn't handle the slap and tickle of Fifty Shades Of Grey by emphatically declaring:
Instead, Charlie Hunnam made sure to point out that the real reason for his exit was due to a scheduling clash. Having given his word to director Guillermo del Toro, who he'd had previously worked with on Pacific Rim, that he'd star in Crimson Peak, Hunnam felt obliged to stand by his word and feature in that film.
This was despite the fact that Hunnam only has the fourth lead in the horror flick, while Fifty Shades Of Grey went on to become a Valentine's Day event picture that grossed $569.7 million. Basically, if he had starred as Grey, Hunnam would easily be a further echelon up the Hollywood ladder now. But that would have come with its own set of problems, and since his career is doing just fine without his appearance in Fifty Shades, he seems OK with his decision.
A sequel to Fifty Shades Of Grey, Fifty Shades Darker, will be released on February 10, 2017, while James Foley has stepped in and replaced Sam Taylor-Johnson as the film's director.
Your Daily Blend of Entertainment News
Thank you for signing up to CinemaBlend. You will receive a verification email shortly.
There was a problem. Please refresh the page and try again.