How The Guardians Of The Galaxy Would Look As Saturday Morning Cartoon Characters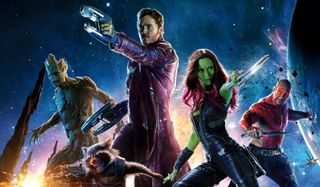 The world of Guardians of the Galaxy is an elaborate one with all kinds of strange and obscure creatures. Even before Star-Lord and the gang joined up, the original lineup was way different. Though we couldn't imagine the film now without the likes of the foulmouthed Rocket Raccoon and the tree-of-few-words Groot, director James Gunn shared an image over Facebool of his characters imagined as figures from Hanna-Barbera Productions. Now this is an alternate lineup we can get behind!
Dubbed Hanna Barbardians of the Galaxy, the spoof remolds our intergalactic team of misfits into the best cartoon that was never made: Gamora as Pebbles from The Flintstones, Star-Lord presumably as Bam Bam, Rocket as Muttley of Wacky Races, Drax as Captain Caveman of Captain Caveman and the Teen Angels, and Groot as Grape Ape from The Great Grape Ape Show. So now I guess his catchphrase is "I am Grape Ape"?
Gunn has an addictive sense of humor when it came to Guardians and the fan response, which is probably why the film was so great to begin with. Thanks to the comedy he infused in his script and the combined efforts of the cast, including Chris Pratt's star-making turn as Star-Lord, this obscure comic book property became an international sensation. And the fans are bouncing off this energy with some pretty spot-on spoofs.
As is the case with the actual film, though, this Hanna Barbardians version of Rocket and Groot are my favorites. Given Rocket's superhuman sassafras he spits at everyone around him, Muttley is an excellent choice. Whenever we think of that scene of Rocket forcing himself to laugh at Star-Lord's suicidal plan, we'll think of Muttley's famous chuckle. A commenter on Gunn's Facebook page even suggested the awesome idea to reimagine Ronan the Accuser as Muttley's master Dick Dastardly.
As for Groot, there's no better alter-ego than Grape Ape, the 40-foot-tall purple gorilla whose catchphrase is saying his name. If only the two could meet together in some alternate dimension and have a conversation. We would pay to see that.
Gunn's plans for the upcoming Guardians of the Galaxy 2 will no doubt be just as awesome as this blockbuster hit, and we can only hope that he's using images like this piece of fan art as inspiration. We have a while until we'll get more of those meddling Guardians, so keep the spoofs coming, you guys!
Your Daily Blend of Entertainment News
Thank you for signing up to CinemaBlend. You will receive a verification email shortly.
There was a problem. Please refresh the page and try again.