How Harrison Ford Feels About Indiana Jones 5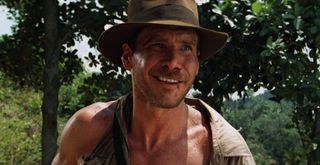 Unless you're dead, you're aware that there's a great deal of hype surrounding the impending release of Star Wars: The Force Awakens (and even if you're a ghost, you still probably noticed). One of the big selling points is that we'll see a number of familiar faces from the original trilogy, including Harrison Ford returning as fan-favorite space rogue Han Solo. But Star Wars isn't the only franchise he might return to. There has been a lot of talk of a new Indiana Jones movie and, should the stars align, Ford say he's totally down.
There has been a lot of speculation that a new Indy movie could recast the whip-wielding, fedora-wearing protagonist—Chris Pratt is a name that has been kicked about—but it doesn't sound like the 73-year-old actor is ready to hang up his leather jacket just yet. Appearing on Good Morning America today he said:
This is not the first time Harrison Ford has expressed interest in coming back for Indiana Jones 5, and he's not alone in his interest. Even just a few weeks ago he expressed excitement about the prospect of working with Steven Spielberg again—who wouldn't?—and the director himself has also said that he will probably make another installment with Ford. However, both seem to agree that the script has to be right before moving ahead.
It's not just these two talking either. Despite the company having a rather full plate with the massive slate of Star Wars movies, Lucasfilm president Kathleen Kennedy has also stated recently that making another rollicking Indy adventure is still a priority. That said, while it's been talked about, there doesn't appear to be anything super imminent. For his part, Ford joked that he would like it to happen before he turns 80.
If and when Indiana Jones 5 does happen, in the interim, Harrison Ford will likely have revisited yet another of his beloved movie roles, as he is set to return for Blade Runner 2, which could film as early as next year. Directed by Denis Villenueve (Sicario), not Ridley Scott—though Scott had a hand in crafting the story and will serve as a producer—the long-gestating sequel will star Ryan Gosling, with Ford's Rick Deckard maybe not even showing up until the final act, and it's been promised we will get a definitive answer to the is-Deckard-a-replicant-or-not question once and for all.
While we don't have a timeline for Indiana Jones 5 yet, in the meantime, we'll be able to see Harrison Ford as Han Solo in a matter of weeks, and that's an exciting prospect. And if one rumor about the plot of Star Wars: The Force Awakens turns out to be true, he'll have a lot more time to work on a new Indy movie.
Your Daily Blend of Entertainment News