How Hugh Jackman Kept Any Fans From Recognizing Him At Disney World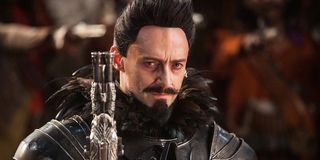 If you're super famous, everywhere you go people snap pictures of you, even, say, if you're just trying to enjoy yourself at Disney World. This is a situation Hugh Jackman found himself in recently, but he came up with an ingenious solution, he used his character from the upcoming movie Pan as cover and was able to move about freely.
During a recent appearance on The Tonight Show Starring Jimmy Fallon pumping up the Joe Wright-directed Peter Pan side story, Jackman talked about how he transformed so drastically for the role that no one recognized him. During filming, his eight-year-old daughter wanted to go to Disney World for her birthday, and while he was worried about attracting too much attention, it turns out that wasn't a worry. He said:
He didn't even set out to specifically to dress up as his Blackbeard the pirate character from Pan, but the requirements for the role altered his appearance so drastically, no one knew they were looking at Hugh Jackman. But between his wacky facial hair, shaved head (for the crazy ass wig he wears in the film), and slimmed-down physique, he was able to walk around with his daughter and three friends unmolested by the general public and people asking him to do the Wolverine pose.
For someone used to being in the public eye, it must be a nice change to just be able to walk around without being the center of attention. This also speaks to the transformative measures he underwent for the role of Blackbeard. And it's not even total strangers who didn't recognize Jackman. When he showed Pan to family and friends, he says his own brother didn't even recognize that the pirate on screen was actually his sibling concealed under layers of costume and make up.
Check out the whole interview below. Jackman has a great anecdote about a stoned waterslide attendant who, while she recognized him as a pirate, didn't realize he was a celebrity.
Pan hits theaters this weekend, and while it looks big and bold and festive, the early reviews have not been particularly kind. A prequel of sorts, the film tells the story of how Peter Pan first came to the magical world of Neverland, and how he has to face all manner of dangers and threats in order to fulfill his destiny and become the hero that generations of audiences know and love. Our own review calls the film a lackluster spectacle that relies more on eye candy rather than story and character, and this seems to be the general gist of many of the responses that have hit the airwaves.
Those of us who haven't already, however, will get to see Pan this weekend and judge for ourselves when it opens Friday, October 9.
Your Daily Blend of Entertainment News
Thank you for signing up to CinemaBlend. You will receive a verification email shortly.
There was a problem. Please refresh the page and try again.