The Real Reason Most Producers Don't Want To Work With Netflix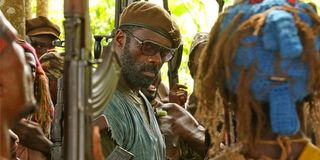 It would hardly be breaking news to assert that Netflix is quickly changing the business model when it comes to the distribution of films and television shows. Brandishing the most prominent streaming service, the company, with its 57 million subscribers in 50 countries, is continuing to reach into its ever-deepening pockets to build an empire of exclusive content, creating a platform of exposure that was previously not possible. Yet, for all the opportunities for exposure it has created, producers are finding that a business partnership with Netflix can sometimes be a poisoned gift. And yes, it's due to the ever-critical variable of money.
According to a report from The Hollywood Reporter, while Netflix's array of new content is flourishing, more producers are starting to catch wind of the tremendous downside when it comes to financially aligning with the streaming monolith. It seems that with the tremendous benefit of Netflix's system of upfront pay, comes the rub of having no backend percentage pay for dollars grossed. As Wall Street analyst Richard Greenfield is quoted explaining of the model in the THR report,
Thus, we could start to see a period after the hype wears down where producers are more meticulous in their choices of what projects they choose to partner with Netflix. Of course, that "hype" may have reached epic proportions with the announcement last fall that Netflix made a deal with Adam Sandler to exclusively release four of his upcoming films. While details of the deal are unknown, Sandler, despite his descending box-office stock, is known to command about $20 million per film; leading to the assumption that Sandler's deal may be a super-lucrative exception to Netflix's "no backend" rule.
Currently, Netflix is looking to bolster its exclusive movie library with independent films intercepted from theatrical release, notably with the African war drama from director Cary Fukunaga, Beasts of No Nation. The film, starring Idris Elba (pictured above) became a controversial topic amongst the theater industry when its $12 million payday from Netflix to air the film exclusively reportedly broke the sacred 90-day window that's typically observed from a film's theatrical release before moving to other mediums. The move caused outraged major theater chains like Regal, AMC, Cinemark and Carmike to go so far as to boycot the film altogether. While showcasing a rising star like Elba, Beasts was a smaller film that had little chance of doing serious damage at the box-office.
Consequentially, one would think that Beasts sacrificing potentially small box-office earnings for a guaranteed $12 million payday was a well-educated gamble. Well, the same could probably not be said for feature Jadotville, an upcoming war film that will soon begin shooting with a Fifty Shades of Grey-fresh Jamie Dornan. That film, in a bewildering preemptive move, took a similar exclusive $17 million deal, despite the film's $12 million budget. (Not exactly leaving too much monetary meat on the bones.)
It leaves one to wonder how much longer exclusive deals with the company will still be considered the next big thing. It's something that Netflix's competitors at Amazon Prime Video are considering, as they include a theatrical window of 4-8 weeks in their deals, which at least allows the films to generate some performance-based profits before hitting the streaming medium. It all certainly exposes the nascent nature of the streaming medium, as it still has yet to lock down a consistent business model that's amicable to both studio and distributor.
Your Daily Blend of Entertainment News