How John Boyega's Role Will Change In Star Wars: Episode VIII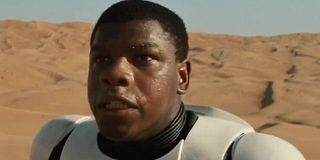 Filming for the next episode in the Star Wars saga has already begun, so while nobody is saying anything about what's going to happen next, one of the stars has talked about how his own role, and the film itself, will be different from Star Wars: The Force Awakens. According to John Boyega, he's going to have to hit the gym to get ready for Rian Johnson's Episode VIII.
While Finn ends Star Wars: The Force Awakens lying unconscious on a table, there was little question that he would be returning for the next film. In some comments made to the UK edition of Vogue magazine, he says that his workout regimen for the first film was minimal, but that may be changing for the new movie.
Finn needed to be in reasonable shape in Star Wars: The Force Awakens. He was a Stormtrooper after all, and there's no way the First Order was going to let him get soft. Having said that, Finn's own physicality in the film was fairly minimal. Lots of running, the fight with "TR-8R" and then his battle with Kylo Ren. It sounds like there will be a bit more for Finn to do in the next film. It's anybody's guess at this point exactly what that will be but it's apparently going to be enough that Boyega will need to spend more time working out.
John Boyega's physique won't be the only difference in the film, however. While The Force Awakens took more than a few of its cues from the original Star Wars film, it sounds like the next film will be taking at least one concept from The Empire Strikes Back. When speaking about the script for Star Wars: Episode VIII, Boyega teased:
Empire is the darkest of the original trilogy, to be sure. Han Solo has been captured. Luke Skywalker learns the truth of his lineage, and loses a hand. Lando loses Cloud City to the Empire. It's just all bad. This news might not be the most surprising. It's not unusual for act two of a trilogy to be darker, as it gives the characters something to overcome in act three. But many view The Empire Strikes Back as the best of the Star Wars films, and its darker tone is certainly part of that.
A more physical movie, for at least one actor, and a darker tone all around. Is this good news for the early stages of the as-yet-untitled Star Wars: Episode VIII? Let us know what you think below.
CinemaBlend's resident theme park junkie and amateur Disney historian. Armchair Imagineer. Epcot Stan. Future Club 33 Member.
Your Daily Blend of Entertainment News
Thank you for signing up to CinemaBlend. You will receive a verification email shortly.
There was a problem. Please refresh the page and try again.