How Many X-Men Movies Tye Sheridan Expects To Make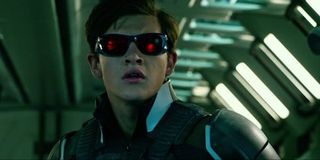 The role of Cyclops was originated on the big screen by James Marsden, but for X-Men: Apocalypse, which is set in 1983, he's being succeeded by future Ready Player One star Tye Sheridan. It's been a long time since Scott Summers played a major role in the X-Men movies, but for the latest entry, we'll see him coming to Xavier's School for Gifted Youngsters for the first time and learning to control his powerful optic blasts. Beyond X-Men: Apocalypse, we haven't heard anything about when Sheridan's Cyclops will appear again, but the actor expects that he'll return for a couple more adventures.
Although multi-picture deals are common nowadays when joining a superhero franchise, Tye Sheridan confirmed in an interview with EW that he's signed on for two more X-Men movies. Which movies these will be weren't revealed, and it's possible the studio doesn't even know yet when they'll use him again. Sheridan's Cyclops is one of the many younger versions of the main X-Men that's being introduced in X-Men: Apocalypse, so if he'll be back at some point, we can expect the others younger X-Men (like Sophie Turner's Jean Grey) will also return at some point.
Director Bryan Singer has called X-Men: Apocalypse as a kind of "conclusion" to the six main X-Men movies, but he's also described it as the "true birth of the X-Men." Following the events of X-Men: Days of Future Past, the franchise now exists in a new timeline, meaning that although it's filled with familiar characters, events won't play out exactly like they did in the original movies. So if Tye Sheridan returns, moviegoers should look forward to his Cyclops continuing his studies under Professor X while fighting bad guys set to do harm to both mutants and humans, just like in the original stories.
As for when he might return, that's a mystery. There hasn't been any word on if/when there will be more main X-Men movies after X-Men: Apocalypse. The franchise's future, for now, rest solely on spinoffs like Wolverine 3 and Deadpool 2. Singer has said he wants to direct another main X-Men movie, but he's taking a break from the world mutants to direct 20,000 Leagues Under the Sea next. If Tye Sheridan returns for a main entry, that means that despite the "First Class" trilogy concluding, the movies could continue to be set in the past, around the mid-late 80s, depending on how much time has passed since the battle with Apocalypse. On the other hand, there have been 10-11 year jumps in the franchise since X-Men: First Class, so maybe Sheridan and his fellow younger X-Men can get away looking the same in the '90s, which wouldn't be too far off from when X-Men took place.
We'll see Tye Sheridan's Cyclops in action when X-Men: Apocalypse is released on May 27.
Your Daily Blend of Entertainment News
Connoisseur of Marvel, DC, Star Wars, John Wick, MonsterVerse and Doctor Who lore. He's aware he looks like Harry Potter and Clark Kent.
Your Daily Blend of Entertainment News
Thank you for signing up to CinemaBlend. You will receive a verification email shortly.
There was a problem. Please refresh the page and try again.