That Wolverine Cameo May Not Be What You Think It Is, According To Bryan Singer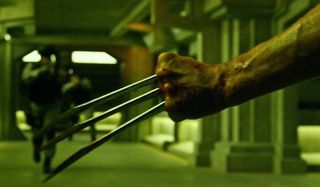 The final X-Men: Apocalypse trailer came out yesterday, and there was a lot of new footage featuring the mutant superhero team, the eponymous villain and his Four Horsemen. The biggest surprise was saved for the end, when Cyclops mentioned they had help dealing with some rogue soldiers, and we then saw Wolverine pop his claws. If you've paying attention to recent X-Men: Apocalypse news, you know that Wolverine won't be a central character in the movie, but director Bryan Singer assures fans that his appearance won't simply be a throwaway cameo.
While going over the new trailer with Empire, Singer said there's more to that Wolverine moment in X-Men: Apocalypse than was let on, and it will fit within the established X-Men movie continuity. As he put it:
So unlike that cameo in X-Men: First Class where Wolverine impolitely dismisses Professor X and Magneto when they approached him, Wolverine's small appearance this time around will be more significant. It's too soon to know for sure what this entails, but Bryan Singer's comment does fit well with our theory that X-Men: Apocalypse is recreating Wolverine's time at Weapon X, teased in flashbacks during the original X-Men movies and fully seen in 2009's X-Men Origins: Wolverine. Remember, Josh Helman is reprising William Stryker, and 10 years after working for Bolivar Trask, he has his own plan to "deal with the mutant problem" that will involve some Xavier's young students. Those green-lit hallways did look familiar in the trailer. Plus, there's a brief shot of a helicopter traveling over snow-covered mountain terrain, and fans will remember that Stryker's compound in X2: X-Men United was located at Alkali Lake in Canada.
However, we also need to consider the "birth of a new direction" part of Bryan Singer's quote. After escaping Weapon X in the original X-Men movies, Wolverine wandered for 15 years in an amnesiac state, knowing only about his special powers and that his name was Logan. It was only around 2000 (or whenever X-Men took place) that he was found by the X-Men and became one of their main members. Maybe in this new timeline, Wolverine is found by the X-Men not long after they break out of that military facility, so he has a longer history with the team. Not only that, maybe he won't lose his memories (either due to Stryker not shooting those adamantium bullets at his head or Xavier undoing the damage), letting him remember all the key moments in his significantly-long lifespan.
We'll find out what X-Men: Apocalypse has in store for Wolverine when hits theaters on May 27, and following that, Hugh Jackman will appear as the clawed mutant one last time in Wolverine 3 on March 3, 2017.
Your Daily Blend of Entertainment News
Connoisseur of Marvel, DC, Star Wars, John Wick, MonsterVerse and Doctor Who lore. He's aware he looks like Harry Potter and Clark Kent.
Your Daily Blend of Entertainment News
Thank you for signing up to CinemaBlend. You will receive a verification email shortly.
There was a problem. Please refresh the page and try again.