How Marvel Is Trying To Get Women Excited About Avengers 2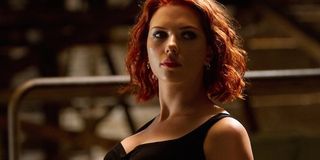 When one thinks of Marvel movies, they likely think of the many male superheroes, giant explosions, intense car chases and epic battle sequences often seen within the films of the Marvel Cinematic Universe — imagery tailored, stereotypically, to a male demographic. But if Disney finds success with its new plans, aimed at marketing Marvel's Avengers: Age of Ultron more to women, we may begin to see the brand establish a more symbiotic relationship across both sexes in the coming years.
According to Variety, Disney is set to launch one of the company's biggest film licensing programs ever, and part of that initiative to broaden its reach will be directly devoted to branching further into the "food and packaged goods" categories, through companies like Sage Fruit, Conagra, Crunch Pak and Chobani. Selling The Avengers through products like granola bars, yogurt and whole and/or sliced fruit may seem out of whack at first glance, but with grocery store shoppers (which at 65-67% are overwhelmingly female) seeking out health conscious food products, it will likely help market to a demographic not normally hit by the comic company.
Prior to this, Marvel has primarily focused merchandising through companies like Hasbro, Hot Wheels, Lego and Funko for toys, action figures and play sets, as well as companies like Under Armour for apparel. Disney's senior VP of Marvel Licensing had this to say of the recent Avengers: Age of Ultron marketing decision to "make the big bigger":
The first Avengers film achieved about a 40% female attendance rate, which was the highest of any Marvel film until last year's Guardians Of The Galaxy, which brought in 44%. In a normally male-donimated market, the trends of females gaining interest in comic book films are starting to rise. With more and more female characters like GOTG's Gamora (Zoe Saldana) and Nebula (Karen Gillan), Captain America: The Winter Soldier's Black Widow popping up, it looks like there is a bigger shift happening. One need not look any further than last year's announcement of the female Thor and the upcoming Captain Marvel film to see that Marvel is indeed pursuing women much more aggressively now than ever.
Avengers: Age of Ultron opens on May 1, and from the sounds of their marketing push, it may not only be the most financially successful Marvel pic of all time, but it may also bring in the highest percentage of female viewers for any MCU film to date.
Your Daily Blend of Entertainment News
Thank you for signing up to CinemaBlend. You will receive a verification email shortly.
There was a problem. Please refresh the page and try again.