Why Quentin Tarantino Is A Genius, According To Christoph Waltz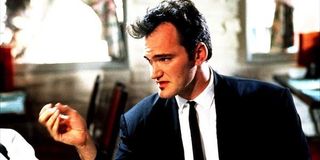 It's totally fair to say that Quentin Tarantino has his share of devoted fans, those who extoll his genius, his quick wit, and the way he laces his films with snappy pop culture references and uses that to help define his characters. And as it turns out, one of those who sing his praises is now-frequent collaborator, Christoph Waltz.
Stumping hard for his upcoming villainous turn in the James Bond adventure Spectre, Waltz stopped for a chat with Playboy (opens in new tab). Talking with the soon to be non-nudie mag, the Austrian-German actor elaborated on his admiration for Tarantino, saying:
Tarantino is certainly known for his sharp dialogue and his deep, expansive love for film. His movies are a veritable collection of references, homage, and cap tips to the cinema that came before, some overt, others in your face — the same goes for the movies he alludes to, some are obvious and well known, while others are deep cuts, even for seasoned cinephiles.
It also makes a great deal of sense that Waltz would have a fondness for Tarantino, especially considering what the director has done for his career. Though the 59-year-old actor has been working for decades in German TV and film, it wasn't until teaming up with Tarantino for 2009's Nazi-hunting Inglorious Basterds that he took off in a global way. Since then he's won two Academy Awards — for playing a terrifying Nazi officer in Basterds and a bounty hunter disguised as a travelling dentist in Tarantino's Django Unchained — worked with big name directors, appeared in blockbuster films, and now he's even getting to play a creepy as hell Bond villain. Any way you slice it, Waltz has had a solid last five or six years, in large part thanks to Quentin Tarantino.
In addition to menacing James Bond in Spectre next week, or the week after, depending on where you live, Waltz is also plotting a bit of a career change, or at least a shift, as he is going to direct a movie called The Worst Marriage in Georgetown. This is a bit of a departure, as he has more than 100 acting credits to his name, but has only previously helmed a German TV movie back in 2000.
Quentin Tarantino is back again later this year for the western The Hateful Eight, which opens in theaters on Christmas Day. As for Christoph Waltz, we'll have to be satisfied with his sinister turn in Spectre.
Your Daily Blend of Entertainment News