How Violent Fans Can Expect Wolverine's X-Men: Apocalypse Appearance To Be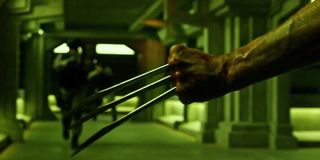 After months of rumors and reports, last month's X-Men: Apocalypse trailer revealed that Hugh Jackman will appear as Wolverine. Although he won't play a central part in the story, director Bryan Singer has said his particular sequence is "pivotal" rather than a mere cameo. Now it's been confirmed that we will see Wolverine back in the Weapon X setting where his skeleton and claws were covered in adamantium, and it's here that moviegoers will see him at his most animalistic.
When asked by HeyUGuys about what fans can expect from Wolverine's X-Men: Apocalypse appearance, Bryan Singer revealed that the clawed mutant will be unleashing his inner berserker as Weapon X. The director said:
We've previously seen two interpretations of Wolverine escaping Weapon X in the X-Men movie universe. One was the brief flashbacks from the original movies, where Logan was freaked out to see his metal claws. The second was when X-Men Origins: Wolverine fully delved into his past, and there, he was more determined and in control while charging out. It sounds like X-Men: Apocalypse's version will have him truly becoming the animal this time around.
The only footage of Wolverine shown in X-Men: Apocalypse so far is those brief seconds where he unsheathe his claws in front of the soldiers in that military base. We haven't seen him slashing his way through them yet, but the carnage afterwards was shown when Mystique and older mutants arrived to rescue Cyclops, Jean Grey and the other young mutants. Just like in previous tellings, William Stryker (now being played by Josh Helman) is behind Wolverine's adamntium coating, but he'll also have kidnapped Charles Xavier's students to conduct experiments which are meant to deal with the "mutant problem."
Producer Simon Kinberg later touched on some other ways they were thinking of including Wolverine in X-Men: Apocalypse, like having him be a drill sergeant to the young mutants. As they progressed, they realized that they wanted him to be "out of control" and "stripped down," which is something we've barely seen in the previous movies. Kinberg also mentioned a meeting between Wolverine and Sophie Turner's Jean Grey, describing the moment between them as "rich."
Following X-Men: Apocalypse, Hugh Jackman will reprise Logan one more time in Wolverine 3, which will take place in the future and see him reunited with Patrick Stewart's Charles Xavier. It's worth noting that that movie will be rated R, so while X-Men: Apocalypse may be giving moviegoers an out of control Wolverine, Jackman's final appearance will likely be when we see him at his most violent, and we can't think of a better way to end his tenure.
X-Men: Apocalypse hits theaters on May 27.
Connoisseur of Marvel, DC, Star Wars, John Wick, MonsterVerse and Doctor Who lore. He's aware he looks like Harry Potter and Clark Kent.
Your Daily Blend of Entertainment News
Thank you for signing up to CinemaBlend. You will receive a verification email shortly.
There was a problem. Please refresh the page and try again.