How The Vision Changed Paul Bettany's Life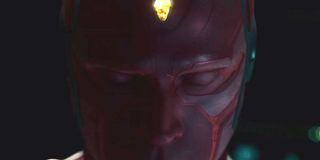 As it turns out, the Avengers: Age of Ultron movie is life-changing. Paul Bettany recently admitted that the role of The Vision couldn't have come along at more perfect time for his career.
In a recent interview with Business Insider, Paul Bettany confessed that he landed the role of The Vision literally minutes after being told by a producer that he would never work in Hollywood again. Luckily for the actor, that "never working in Hollywood again" thing only lasted for a few minutes and luckily for us, we got to see him give an amazing performance of The Vision in the new Avengers: Age of Ultron movie.
Paul Bettany's version of The Vision doesn't show up until nearly the climax of the movie, but when he does appear on screen, there is no question that the he was the right man for the job. For those who haven't yet seen the new Avengers: Age of Ultron movie, just know that Bettany's interpretation of The Vision is everything fans would expect of the android created by movie villain Ultron. His performance was spot on, particularly for someone who had no prior knowledge of the character—something he also admitted during the Business Insider interview—before embarking on playing the role. Interestingly enough, how the role came about wasn't as effortless, at least not initially. In his own words:
But don't feel too bad for The Vision actor, soon after that depressing meeting, things changed around rather quickly. I guess you could say, within the ring of a phone. Enter Avengers: Age of Ultron director Joss Whedon.
It may sound like a dream—or even a movie—the way it all played out, but it is far from such for Bettany. Unfortunately, this wasn't the first time that the acting veteran was told that he would no longer act in Hollywood again and yet he proved those naysayers wrong as well. Back in 2008, Bettany voiced Tony Stark's cybernetic assistant J.A.R.V.I.S. in Iron Man, which he later reprised in the follow up films, Iron Man 2, Iron Man 3 and Avengers in 2012. By portraying The Vision and voicing J.A.R.V.I.S. in the Avengers sequel, Bettany has become the first actor to play two roles in a Marvel film.
Your Daily Blend of Entertainment News