Hugh Grant Claims He'll Be Unrecognizable In Cloud Atlas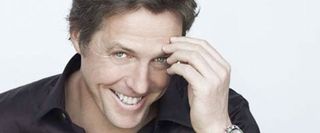 The Wachowski siblings have compiled a curious cast for Cloud Atlas, their latest collaboration with Tom Twyker. This inscrutable science-fiction epic counts among its sprawling international cast the Wachowski's go-to leading man Hugo Weaving, American everyman Tom Hanks, the puppy-eyed Jim Sturgess, the sultry Halle Berry, and rom-com king Hugh Grant. A line-up that's as dazzling as it is confounding. Indeed, at every turn it has been difficult to get a bead on what this mysterious adventure has in store, as it is said to feature six seemingly separate story lines set throughout time in various locales, with the cast mates playing several parts overall. Now Hugh Grant has shared some details on the recently wrapped production with Empire, but his revelations lead to more questions than answers.
Speaking on Cloud Atlas, Grant called it a "strange, ambitious film," and confessed he plays a total of six different characters in it. When pressed for details, he admitted fans may not recognize him, not only because these characters, which he describes as "incredibly evil," are the polar opposite of his usual typecasting, but also because of the extensive physical transformation each entailed:
Grant admitted that playing so far afield of his type was sometimes deeply challenging, especially when he was called upon to play a ravenous cannibal:
I have no idea what a cannibal skirt is, but I have to admit, I want to see Grant in one. I've personally always enjoyed his haughty, foppish shtick, but am wildly curious about what the results will be of him playing so against type. It also makes me wonder if the rest of the cast will be pushed to places so far from their comfort zone, with such extreme physical transformations. What could this mean for the film and its cast? Ironically, the more we discover about Cloud Atlas, the less I can picture it, which makes it all the more intriguing.
Cloud Atlas is expected to hit theaters later this year.
Staff writer at CinemaBlend.
Your Daily Blend of Entertainment News
Thank you for signing up to CinemaBlend. You will receive a verification email shortly.
There was a problem. Please refresh the page and try again.