Hugh Jackman Is Putting All Of His Weight Behind This Massive Musical Biopic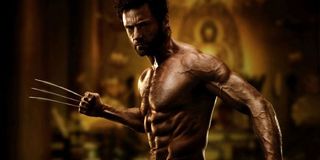 Moviegoers know Hugh Jackman best from his recurring role as Wolverine in the ongoing X-Men franchise. But the burly leading man has a soft spot for musicals, that he's mostly been tapping into on Broadway. However, Jackman is soon to bring his musical chops back to the big screen with a biopic full of songs and dance numbers.
Deadline reports Hugh Jackman will headline The Greatest Showman on Earth, a cleverly titled biopic about PT Barnum, founder of Barnum & Bailey Circus (A.K.A. The Greatest Show on Earth). Fox is currently working out a budget for the project, which is looking to lens in New York City in the summer of 2015. Its story will focus on how Barnum brought about our current concept of show business, and his invention of the three-ring circus.
Shockingly, The Greatest Showman on Earth will be the first original musical to be made by Hollywood in 14 to 22 years, depending on what you consider original. Yes, we've had a slew of Broadway translations, from Jackman's own Les Miserables, to Into The Woods, Annie, Rock of Ages, Dreamgirls and Jersey Boys. But musicals made directly for the silver screen have become incredible rare. If you reach back to 2001, you've got Baz Luhrmann's Moulin Rouge, but notably that pop-laced musical was made up of previously existing pop songs. If you discount this, the last original Hollywood musical made was 1992's Newsies, which starred a fresh-faced Christian Bale!
An original musical could mean a big risk for Fox, as they can't rely on pre-existing fans for their box office. This is where having a leading man like Hugh Jackman comes in. The A-Lister has a broad appeal, a history belting on Broadway in The Boy From Oz, and an Oscar nomination courtesy of his turn in Les Mis. Who better to bolster an original biopic about PT Barnum?
The Greatest Showman on Earth has been in development for some time. Jenny Bicks (The Big C) and Jordan Roberts (Big Hero 6) were brought in to write its earliest drafts before Chicago scribe Bill Condon was brought on for a polish. The current draft has been credited predominantly to Jonathan Tropper, the novelist who adapted his beloved novel into the film This is Where I Leave You.
Signed on to helm The Greatest Showman on Earth is commercial director Michael Gracey, who previously collaborated with Jackman on the Lipton Iced Tea ad below:
So…that happened.
The Greatest Showman on Earth should roll into production next summer. In the meantime, we'll keep an eye out for further casting announcements.
Staff writer at CinemaBlend.
Your Daily Blend of Entertainment News
Thank you for signing up to CinemaBlend. You will receive a verification email shortly.
There was a problem. Please refresh the page and try again.