Hugh Jackman Will Star In Prisoners For Denis Villeneuve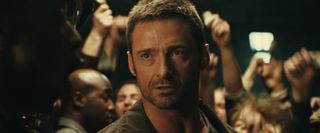 Not that long ago, Prisoners was one of the most talked about un-produced screenplays in Hollywood. Aaron Guzikowski's spec script immediately caught the attention of big names like Mark Walkberg and Christian Bale but that incarnation soon fell apart and they turned to David O Russell's The Fighter. And while the writer's second project ended up getting made with Walhberg, an adaptation of a Icelandic film called Contraband, Guzikowski's buzz-worthy first effort saw many actors and directors come and go but it couldn't gain any real momentum.
THR's Heat Vision reports that the project about a small-town carpenter turned torturous vigilante has new life with Hugh Jackman set to star for Canadian director Denis Villeneuve. Jackman would play the carpenter who, after the cops prove ineffectual, kidnaps the man he suspects is responsible for kidnapping his young daughter and best friend. As he tortures the man for information, the carpenter starts to question whether or not he grabbed the right guy. Sounds pretty interesting, with the tension and uncertainly of David Slade's Hard Candy without all the squirmy castration. Maybe.
Even though the road was long, this creative team actually sounds better than all the previous versions of Guzikowski's screenplay. Maybe the writer isn't as appealing as he was before the middling Contraband hit theatres but I would much rather see Hugh Jackman play the vengeful father in the gritty drama than Mark Walhberg, if for no other reason than we've seen the Marky Mark do it so many times... like Contraband. Actually, Jackman was rumoured for the project back when Antoine Fuqua was still attached to direct but the prospect of Denis Villeneuve directing is a bit more exciting. Those who saw Villeneuve's excellent and Oscar nominated Incendies will most likely agree. And I hate Training Day. so there's that.
According to the article, Alcon is hoping to shoot Prisoners in early 2013, after Jackman films Wolverine. At least he'll be in the right state of mind.