The Hulk Says Another Hulk Movie Is Coming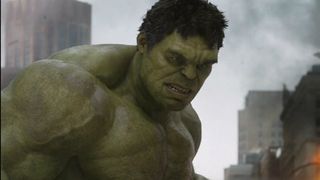 We hope you're ready for more of The Incredible Hulk, because today's rumors hint at not only another movie, but a brand new television series as well.
Actor and bodybuilder Lou Ferrigno dropped these bombshells at Wizard World Comic Con over the weekend during a brief interview with blog Film Fad. During the course of the chat, the original Green Goliath mentioned that he "think(s) down the road, I think in another year, they're going to film a solo Hulk movie." He then asked if he thought there'd ever be another Hulk television show, and if there was, who would don the green body paint and purple pants. Here's Ferrigno's response:
The catch here is that "someday" part. Hollywood is full of things that might get made "someday" down the road and never come to fruition. We don't doubt that Marvel and Disney are exploring plans for another Hulk solo project, given that Ang Lee's version and the Edward Norton take on the character never quite caught on the way Marvel hoped. But the company doesn't appear to be in any rush to give Bruce Banner and his angry alter ego a third bite at the apple of success, despite what Lou Ferrigno believes.
This is unfortunate, because The Avengers has proven not only that the character is a fan favorite, but that the tandem of Mark Ruffalo and CGI really works well together. The downer is that Marvel is sitting on two fantastic The Incredible Hulk story arcs that would make great films in World War Hulk and Planet Hulk. It's not hard to imagine a film adaptation of either of those comics becoming a huge hit for the company.
As far as television goes, Pacific Rim filmmaker Guillermo del Toro generated a lot of buzz awhile back when he started talking about a meeting he had with Marvel about bringing the character to television. Del Toro had a script for a new show, and a writer he wanted to bring on board, but the project basically withered on the vine in the wake of The Avengers' success. Marvel felt the big screen version of the character, as molded by Joss Whedon and Mark Ruffalo, was the right direction and the Del Toro series died before it ever had a chance to live.
Our guess is we may get a Hulk television series at some point, but it could be an animated show on a Disney channel. It seems more likely that we'll see another Hulk standalone film before we see a regular TV series, because it's hard to imagine Ruffalo (who is The Hulk at this point) wanting to move from the feature films to television. Stranger things have happened, but at this point, we'd advise you not to get your hopes up for either a new movie or a weekly series. If you love The Hulk, you'll have to get your fill in The Avengers: Age of Ultron.
Your Daily Blend of Entertainment News
Thank you for signing up to CinemaBlend. You will receive a verification email shortly.
There was a problem. Please refresh the page and try again.