Ian McKellen, Judi Dench And Gillian Anderson Will Fend Off Zombies In The Curse Of The Buxom Strumpet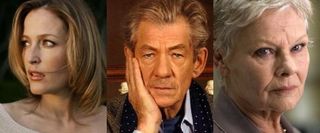 There are a lot of geek worlds colliding for The Curse of the Buxom Strumpet, even though it might not sound like it at first. The independent UK feature is set to star Ian McKellen (whom you may know better as Gandalf), Judi Dench (whom you may know better as James Bond's boss M) and Gillian Anderson (whom you definitely know better as Agent Scully), So while they've got the Lord of the Rings, Bond and X-Files fans already locked down, they're adding one more bonus: it's about zombies.
According to Screen Daily Matthew Butler will be adapting his short film E'gad Zombies, which also starred McKellen, into this feature film, which has a much more unwieldy but also kinda funny title. It's set in a small British seaside town where the residents are struck down with a "deadly illness," which all the conspiracy theorists know is just code for "zombie outbreak." The article says they plan to start shooting the film in Scotland later this year, but it's unclear if they'll just nab McKellen when he's home on break from The Hobbit or if he really will have wrapped that New Zealand shoot by then. Either way, I'm totally down for this madness, no matter how tired we think we are of zombies. Pride and Prejudice and Zombies, eat your heart out.
Staff Writer at CinemaBlend
Your Daily Blend of Entertainment News
Thank you for signing up to CinemaBlend. You will receive a verification email shortly.
There was a problem. Please refresh the page and try again.