Ice Cube Making Another Friday Movie? Here's What He Says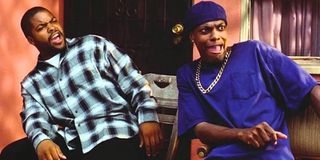 Could it be the case that rose-colored, weed-fogged glasses of nostalgia may give us a fourth Friday film? While plans are still far from set, the film's star, Ice Cube recently expressed his willingness to make that happen. The possibility is very real that this fabled farcical franchise could be lighting things back up as the original insane urban-centric side-splitter readies a return to theaters celebrating the 20th anniversary of its release.
In an interview with The Wrap, rap legend and franchise focus, Ice Cube discusses the rather vexing idea that 20 years has actually passed since his classic, Friday first bombarded moviegoing audiences. When asked about the long-held rumor if another series entry was in the works, Ice Cube would state wholeheartedly, without guile,
The Friday franchise has always been an interesting phenomenon in the movie business. Made on a relatively low budget of $3.5 million, the first film would domestically gross about $27 million with an abysmal $748,000 foreign take. The film made money, but it was hardly an impressive box-office performance. However, it was it had an amazing ability to proliferate in pop-culture and proved to be a perennially influential favorite. In fact, the 1995 film did manage to pull off sequels with Next Friday in 2000 and Friday After Next in 2002, to varying degrees of success.
With an upgraded, but still microscopic budget of $11 million, the second film brought in $59 million globally and proved that there was an audience for the series, some five years after the classic first film, despite the notable absence of Chris Tucker's Smokey. However, the third film, released just two years later in 2002 proved to be the series' nadir, both from a critical and financial perspective. Drawing a dramatic decline in box-office dollars with $33 million, the message from audiences seemed clear that enough was enough.
However, Ice Cube is clearly passionate about the potential for giving the Friday series a proper send-off. Having been 13 years removed from that last film, fans may be more receptive to a nostalgia bomb of a fourth film; especially if the project could be supplied by the unmistakable, irresistible energy from a possible return of Chris Tucker. Yet, Ice Cube would further iterate jokingly that the still-hypothetical project may just have to be called "Last Friday," since clearly, the boundaries for the off-the-wall romp would seriously be pushed to their absolute limit.
While, unfortunately, nothing is set in stone regarding a fourth film, the original Friday will have "shit to do." The film will cruise back to theaters for limited showings in a hydraulics-enhanced convertible on, not at all coincidentally, April 20. (Yeah, 4/20.)
Your Daily Blend of Entertainment News
Thank you for signing up to CinemaBlend. You will receive a verification email shortly.
There was a problem. Please refresh the page and try again.