Interview: The Concert's Melanie Laurent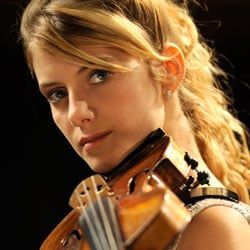 Most of us know Mélanie Laurent as one of Quentin Tarantino's Inglorious Basterds, but Laurent had a lengthy resume even before then. But being that they were all foreign films, very few in the US experienced her work. With her new international star status that's all changing and now we've got the chance to see her latest release, the French film The Concert.
"I knew the movie of the director, there was a movie made before, and I was really honored to work with such an amazing director," Laurent explained. But Radu Mihaileanu wasn't the only thing that drew Laurent to The Concert. "The script was really amazing because it's popular and emotional and a challenge with the violin, so I was really excited to be involved in that project."
The story is about a former conductor, Andrei Filipov (Aleksei Guskov). In his heyday he directed the famous Bolshoi orchestra, but when he was publically criticized for including Jewish performers in his group, his renowned career came to an end. Now he's merely a janitor where the Bolshoi perform. However, one day, that works to his advantage. He intercepts a fax inviting the Bolshoi to play at the Châtelet Theater in Paris and opts to seize the opportunity for himself, reassemble his old musicians and head to Paris pretending to be the Bolshoi.
That's where Laurent comes in as the famous violinist, Anne-Marie Jacquet. One of Filipov's group's many demands is that Anne-Marie accompany them. We're well aware of the fact that Laurent can handle a gun, but what about a violin? She admitted, "I used to play piano when I was five then I stopped, but the challenge of the violin was really really great for me because it was hard but I had a lot of fun doing this and the training was really interesting."
What's even more interesting is what that training entailed. It can take a musician a lifetime to be able to play with an esteemed orchestra. Laurent said, "You can't learn violin in two months, so I just learned how to pretend I'm a violinist." But she wasn't totally faking it. Laurent actually had to learn how to play, but only with her left hand. "The training was about being on the good chords at the right moment and to play violin like a violinist, to move like a violinist." So where does the right hand come from? "They took another musician with small arms and small hands [laughs], and it's a special effect."
On the other hand, the emotion Laurent had to portray is as raw as can be. The Concert is a comedy, but nearly every funny moment is reserved for the fake Bolshoi members. The power of Laurent's role comes from her reaction to their hysteria. She puts on a fine performance from the moment she steps on screen, but the film's grand finale is an absolutely profound display of passion, so much so that I couldn't even imagine how Laurent could find that scene anything but taxing. However, the experience was the exact opposite for her. "I didn't work on the emotion, it just happened," she explained. "I just loved being on stage and pretending I'm a violinist. It was an amazing moment. I remember we worked on that scene for almost two weeks and I didn't want to leave. [Laughs] I could stay forever on stage."
Lucky for Laurent, she's got some serious musical talent even when her right hand isn't being digitally rendered. She's actually busy working on an album with Irish singer-songwriter Damien Rice. "I have a studio in my house and I'm singing everyday." She added, "I hope I'm going to be on tour in the US with that record." The distribution plan has yet to be finalized, so that tour likely won't be happening anytime in the near future, but when it does, I'm sure Laurent's Inglorious Basterds fans will come out in full force.
In the meantime not only is Inglorious Basterds good for multiple viewings and The Concert in theaters now, but Laurent also has a few more film projects on the way. "I did an independent movie called Beginners with Ewan McGregor and Christopher Plummer," said Laurent. On top of that she also revealed, "I have a lot of French projects. I'm going to direct my own movie in November and I'm shooting right now a movie in France." That movie is a comedy called Et soudain, tout le monde me manqué, which according to an online translator means And Suddenly, Everybody Misses Me. It's "with an actor called Michel Blanc, which is funny because I worked with him as a director nine years ago." He's playing her father in the film.
So Laurent's work is clearly overseas-centric, but she's eager to return to Hollywood should the opportunity arise. Referring to Inglorious Basterds, she explained, "That experience was just a dream, so yeah, if I could live another dream, I'm ready for that." She's certainly more than welcome here and I've got a feeling I'm just one of many who hopes she returns to the states whether it's for another big budget production or maybe even for her music tour very soon. For now, check out The Concert in select theaters.
Your Daily Blend of Entertainment News
Staff Writer for CinemaBlend.