Jake Gyllenhaal Just Joined Another Video Game Adaptation, Get The Details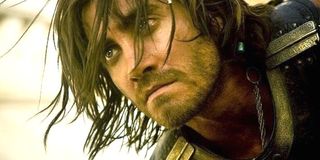 It's been six years since Jake Gyllenhaal lit up screens worldwide in his portrayal of the titular character in Prince of Persia: The Sands of Time. But seeing as that film's reception was, at best, lukewarm, one can't blame him if he never set foot on the set of a video game adaptation again. Yet here we are, almost a decade later, and Gyllenhaal is ready to take the lead in the film version of Tom Clancy's The Division.
The news broke in a hot item this evening, courtesy of Variety, which saw Gyllenhaal not only named as the star of the film adaptation of one of this year's best selling video games, but also as a producer. This is Ubisoft's third would-be film franchise based on one of their products, as Michael Fassbender's Assassin's Creed is set to be released this December, and Tom Clancy's Splinter Cell is in the works, with Tom Hardy in the lead. The search for a writer and director for Tom Clancy's The Division is currently underway.
In Tom Clancy's The Division, an elite force of special ops personnel is dispatched to New York City, in hopes of enforcing the law and eventually rebuilding after a devastating viral outbreak on Black Friday. The game's story was based off of an actual fictional scenario that the Department of Homeland Security created, in hopes of developing a response plan to such an event. With $330 million in sales in its first week of release, it was only a matter of time before Ubisoft's film division started to dream up a film version to compliment their other projects in development. Much like Assassin's Creed before it, Tom Clancy's The Division is hoping to bank on its leading man's talents both on and off screen.
While it might seem a bit early for Ubisoft to start planning the theatrical version of Tom Clancy's The Division, there are several factors that work in favor of the project's jump start into production. The first, and most obvious, is the fact that the Tom Clancy name still sells pretty well, even after the author's death in 2013. Much like Robert Ludlum, Clancy's work with co-authors across several iconic franchises and sets of characters has left a legacy in literary and video game entertainment that's still going strong. In fact, there's a chance that Jake Gyllenhaal's project just might be the boost that the Clancy name could use, just in case Clancy's classic character, Jack Ryan, can't regain his footing in the public consciousness.
The other big advantage that Tom Clancy's The Division has is the fact that it's an open world RPG game that leans heavily on player interaction, and has a minimal amount of storyline to keep the game going. With every player's experience being similar enough to tell the same basic story, but different enough to give each variant its own flavor, all Jake Gyllenhaal and his team have to do is get the basic details of the inciting incident right, and the rest can be filled in with whatever those in charge feel like. Though don't expect video game fans to let the film off that easily, as there's bound to be some sort of cinematic streamlining that'll upset hardcore fans.
No current production or release schedule is set for the film version of Tom Clancy's The Division, but you can currently enjoy the source material on your Playstation 4, Xbox One, or PC. As for Jake Gyllenhaal, you can next see him at the movies in Tom Ford's Nocturnal Animals, which is slated for release on November 18th.
CinemaBlend's James Bond (expert). Also versed in Large Scale Aggressors, time travel, and Guillermo del Toro. He fights for The User.
Your Daily Blend of Entertainment News
Thank you for signing up to CinemaBlend. You will receive a verification email shortly.
There was a problem. Please refresh the page and try again.