Tom Hardy's Splinter Cell Will Be A Younger, Fresher Take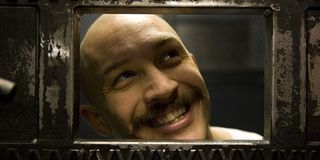 There's an August start date for Splinter Cell, the Tom Clancy adaptation based on a series of games featuring CIA-turned-black ops agent Sam Fisher. The 36-year-old Tom Hardy will be stepping into the boots of the character, who has long been considered older and more seasoned in the games. The mythology has him in the neighborhood of 40, and he's been voiced many times by brass-throated Michael Ironside. But Splinter Cell the movie is taking a different point of view.
Director Doug Liman is currently on the Edge Of Tomorrow promotional tour when he chatted with IGN about Splinter Cell, revealing that the film would depict a younger, less-seasoned Fisher.
Obviously this means it's ostensibly the start of a new franchise. There were rumors of a shared universe with Jack Ryan: Shadow Recruit, but that film's box office failure suggests Splinter Cell would attempt to distance itself from that series, which isn't difficult considering the lack of interaction between Fisher and Ryan in Clancy's work. There are seven games and seven accompanying novels from which to pick Fisher's adventures from, and Ubisoft's game franchise has moved more than 22 million units since its inception. Clearly, there's a Splinter Cell fanbase, just as there is for a product listed under Tom Clancy's name: the late author had more than 100 million copies of his books in print all over the world before his death last October.
Like Michael Fassbender, who is producing and starring in Assassins Creed, Tom Hardy is looking to a video game to launch him onto the A-list and getting actively involved in the development process. Doug Liman recently shared a similar collaborative experience with Tom Cruise on Edge Of Tomorrow, as that film was originally written for a much younger actor.
Though the project had a lauded script by Eric Warren Singer (American Hustle), it recently gained a re-write by Shelton Turner (Up In The Air) to probably align itself more with Hardy and Liman's take. And that involves less gizmos, as Liman says,
Meat and potatoes sounds good! Splinter Cell has no release date as of yet, but it starts shooting in August.
Your Daily Blend of Entertainment News