James Bond Director Leaving The Franchise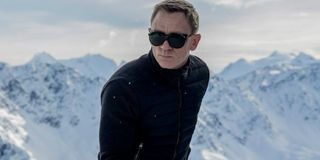 As many are still left wondering whether Daniel Craig will continue his Bond duties after Spectre, one of his crucial compatriots will definitely not: his director. Sam Mendes, who previously directed Craig in Skyfall, recently spoke about his future with the franchise and he was forthcoming about not returning.
According to the BBC, Mendes said:
Spectre marks Craig's fourth foray as 007, but his second, Quantum of Solace, didn't excite the fans as the producers probably hoped. Then Mendes stepped in and reinvigorated the franchise with Skyfall, but getting him to come back for Spectre was like pulling teeth. As he explained before in interviews, the act of directing a Bond movie takes up all your life, and he described it in this latest chat with BBC as more of a lifestyle choice. However, he came back for Spectre because he cast a new Moneypenny (in Naomie Harris), a new Q (in Ben Whishaw), and replaced Judi Dench's M with Ralph Fiennes. As such, he felt there were a number of stories still incomplete, hence his return.
After Spectre is all said and done, he's ready to return to the stage and film editing. Mendes said that he is happiest when he working on stage plays or editing films, as opposed to the chaos of a film set. When he's finished his editing, he usually then turns to the stage in order to keep from becoming overwhelmed with one or the other.
Craig's return as 007 for whatever Bond 25 film is being cooked up also seems iffy. Though, while on a visit to Mexico City to check out the set of Spectre, producers Barbara Broccoli and Michael G. Wilson told us that the actor has an "open-ended contract," which means he could potentially part ways at any time. Much like Mendes had to weigh the merits of returning to Bond, Craig had to be talked into the role, as it takes over one's life.
As for Spectre, not much is known about the film beyond what we've seen in the trailer, and a brief plot synopsis that involves Bond receiving a cryptic message that sends him on a mission to uncover a villainous organization.
The film is scheduled for release on November 6, and Craig is joined by a cast that includes Christoph Waltz as Oberhauser, Lea Seydoux as Madeleine Swann, Monica Bellucci as Lucia Sciarra, and Dave Bautista as Mr. Hinx, as well as many of the returning players.
Your Daily Blend of Entertainment News
Thank you for signing up to CinemaBlend. You will receive a verification email shortly.
There was a problem. Please refresh the page and try again.